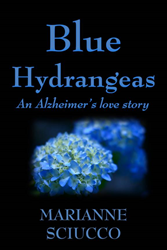 'I'm no artist and am especially proud because I created the cover myself, using my below average Photoshop skills and Power Point.' - Author Marianne Sciucco
Middletown, NY (PRWEB) August 14, 2014
The beautiful cover for Blue Hydrangeas has led author Marianne Sciucco to the finals in Book Goodies Book Cover Contest. Book Goodies is a free service where readers and authors connect. Sciucco's cover was chosen from almost 300 entries.
"It's always a pleasure to be recognized for my work," says Sciucco, a novelist who happens to be a registered nurse. "The competition in this contest is fierce. There are so many great covers. I'm no artist and am especially proud because I created the cover myself, using my below average Photoshop skills and Power Point."
Blue Hydrangeas is the sad but beautiful story of a retired pair of Cape Cod innkeepers struggling with the wife's Alzheimer's. "Cape Cod is known for its beautiful blue hydrangeas," says Sciucco. "They're everywhere! The setting for my novel is a bed and breakfast named 'Blue Hydrangeas.' I imagined a long driveway leading to its front door with hydrangea bushes on each side. I've actually gone to the Cape and looked for a place like this and found it, many times."
Sciucco says she considered dozens of photos of blue hydrangeas but chose this one because "it's simply beautiful and I like the way the flower in the back is blurred; it sort of follows the storyline."
Blue Hydrangeas was published in April 2013 and is a five-time Kindle bestseller in medical fiction. It's IndieReader Approved, a BookWorks Featured Book of the Week, and winner of IndieRecon's Best Indie Novel Award. Amazon readers give it 4.7 stars. Reviewers say: "It's rare for an author to engage the reader so adeptly and genuinely." "A little reminiscent of 'The Notebook,' but more heartwarming." "Wonderfully written! Warm. Tender. Thoughtful."
Fans can vote for Sciucco's cover by opening this link and posting a comment on what they like about it. Voters can also help by sharing Sciucco's contest page on Twitter, Facebook, and Pinterest using this link. The more shares, the more votes each cover gets.
Winners are determined by number of comments (one or two word comments don't count) and combined number of shares. Voters are asked to share only once a day to avoid spamming any social media. Voting ends September 7th at Midnight PST. Prizes will be announced and awarded by September 30, 2014.
Blue Hydrangeas is available in ebook, paperback, and audio at Amazon, iBooks, Nook, Kobo, Audible, and other online retailers.
About the Author
Marianne Sciucco is not a nurse who writes but a writer who happens to be a nurse. A lover of words and books, she studied the craft of writing as an English major at the University of Massachusetts in Boston, and briefly worked as a newspaper reporter in New England. To avoid poverty, she became a nurse. In 2002, she began writing about the intricate lives of people struggling with health and family issues. She lives in New York's Hudson Valley, and, when not writing, works as a campus nurse at a community college.