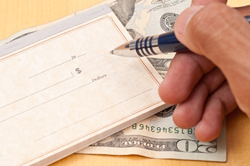 Depending on the type of loan chosen and home buying costs, one may not have extra money to pay points.
Chicago, IL (PRWEB) August 14, 2014
Points And How They Figure Into Mortgage Costs
If getting a low cost mortgage, The Federal Savings Bank knows that points may be required to pay, which are equal to 1 percent of the total loan value. There are two types of points:
Origination points: These points are fees that are charged by the lender as compensation for the loan officer. Whether one is required to pay these points varies by mortgage provider, one cannot deduct origination points from their taxes.
Discount points: When making a prepaid interest payment on a home loan, one is paying discount points. The benefit of these points is that each one can lower their interest rate. These points are paid at closing.
The decision of whether to pay points should be based on how long one plans to remain in the home they're buying. If expecting to stay for only a few years, the money one saves may not be enough to offset what they put down at closing. One may also consider paying fewer points.
In addition to the costs and benefits of points, finances come into play for this decision. Depending on the type of loan chosen and home buying costs, one may not have extra money to pay points.
Tax considerations for paying points

The IRS allows points to be deducted if you itemize your taxes. This information is reported on Form 1040, Schedule A. Lean holders are allowed to deduct all their points under the condition that their acquisition debt doesn't exceed $1 million or home equity debt doesn't exceed $100,000.
In addition to the monetary threshold, the IRS has nine other criteria one must meet to take a deduction:
The loan must be secured by the main home of the lean holder, meaning that the borrower lives in the property most of the time.
The mortgage must be used to buy or build this main home.
Paying points is an established business practice in the area.
The points paid don't exceed the amount generally paid in an area.
The settlement statement, which itemizes services and fees charged by the lender, must list the points paid.
Points must be computed as a percentage of the loan amount.
One must use the cash method of accounting, which means one must report expenses in the year they pay them and income in the year they receive it.
Points cannot be paid for items that are normally itemized on a settlement statement, such as inspection and appraisal fees.
One can't borrow funds from their mortgage broker or lender to pay for the points, and expenses paid at or before closing plus points paid must be more than what they are charged for points.
Points can also be deducted for a mortgage refinance. However, one can only take that deduction during the life of the new loan.
For more information about how paying points can help you save money on your mortgage, contact the Federal Savings Bank, a veteran owned bank.