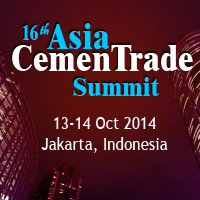 The summit brings together industry leaders to share substantive cement industry insights and new perspectives in Asia, where the pace of investments and opportunities have multiplied.
Jakarta, Indonesia (PRWEB) August 19, 2014
Themed 'Seizing Opportunities in Asia's Infrastructure and Construction Boom', 16th Asia CemenTrade Summit comes at an opportune time to provide a comprehensive overview of the global cement industry, particularly the recent trends in Asia, impact of Lafarge-Holcim merger on Asia as well as markets in Indonesia, China, India, Vietnam, Myanmar, Bangladesh, Pakistan and more.
The event kick-starts with a Keynote Address by Mr. Dwi Soetjipto, President Director, PT Semen Indonesia (Persero) Tbk unveiling 'Growing the Cement Business in Indonesia and Beyond'. This will be followed by two other key presentations on 'Cement Market Outlook in Indonesia' by Mr. Christian Kartawijaya, President Director, PT Indocement Tunggal Prakarsa Tbk and 'Global Cement Outlook and Trade Flow' by Mr. Imran Akram, CEO, IA Cement Ltd.
The strategic summit also offers country-focused cement industry updates on Vietnam, Myanmar, China, Bangladesh and Pakistan which will be shared by Vissai Cement Group, KBZ Industries, China Tianrui Group Cement, Shun Shing Group HK and Khan Cement Company, respectively.
Other key sessions include:

Asia's Economic Outlook – Mr. Fauzi Ichsan, Managing Director & Senior Economist, Standard Chartered Bank
Coal vs. Petcoke: Fuel Choice for Cement Producers – Mr. Fabian Munz, Head of Fuel Trading - Asia Pacific& Africa, HC Trading
Alternative Fuel Strategy for a Sustainable Operation: Lafarge's Case Study – Mr. Pavel Cech, VP Industrial Ecology, Lafarge Asia Sdn Bhd
Dry Bulk Shipping Market Outlook – Mr. M. Kassim Gokal, President Director, PT Oceanic Trade & Services
Financing/ Investing in Cement Projects in Asia – Mr. Tomio A. Komatsu, Senior Investment Officer, International Finance Corporation (IFC)
Cement Sector Capital Projects (Execution & Management Strategies… and the Future) – Mr. Piet Heersche, Managing Director, Cemcon AG
Development in Cement Additives in Asia and Value for the Cement Industry – Mr. Fatzunnahar Ngopil, Product Segment Manager - Cement & Concrete Technology, Fosroc International Limited
The 1.5 day summit expects to bring together senior executives / traders from international / regional cement companies, ready-mix concrete companies, pre-cast & building materials companies, cement raw materials suppliers (slag, fly ash, steel, coal),construction/ infrastructure / building / equity / research analysts, project financiers/ banks, engineering, environmental & CDM consultants, technology & equipment providers, logistics & shipping companies (dry bulk and cement carriers).
Visit 16th Asia CemenTrade Summit website for more details or Contact Ms. Grace at +65 6346 9147.