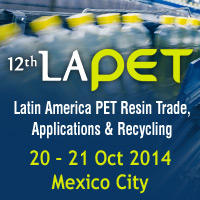 CMT's LAPET (Latin America PET Resin Trade, Application & Recycling) conference will set in motion discussions on the region's fast growing packaging industry innovations.
Mexico City, Mexico (PRWEB) August 20, 2014
An array of information exchanges pertaining to Latin American PET industry, especially global demand & supply prospects for 2015, market forecast for polyester intermediates, technical requirements for food-grade sheet/ thermoforming applications, perspectives from converters, and brand owners and many others will greet delegates attending CMT's 12th LAPET summit in Mexico City.
Two key opening sessions are 'Outlook of the Polyester Intermediates Markets & Technology Advancements' by UOP (A Honeywell Company), and '2015 – A Time for Change' with a focus on demand & supply, PET recycling and more by PCI (PET Packaging, Resin & Recycling) Ltd.
Vital outlook on Mexico and Brazil's PET markets will be presented in Felisa's session on 'Mexico's PET Demand & Packaging Outlook,' PetroquimicaSuape's presentation on 'Brazil's New PET Resin Capacity: How will it Shift Trade Dynamics for the LATAM Markets,' and Plastic Technologies' talk on 'Brazil's New National Policy on Solid Waste: How will it Impact PET Markets & Recycling?'
Meanwhile, Sustenta will provide an overview of 'Achieving Economy of Scale through Optimal Collection & Separation Method of Postconsumer PET Bottles,' and Green Mind will share insights on 'Combating Quality Issues in the PET Recycling Process.'
Other sessions include:

Technical Requirements and Market Growth for Food-Grade Sheets/Thermoforming Applications – Site Plasticos SA
Intelligent Process Cooling Engineered for PET and Beverage Industry – Frigel Firenze S.p.A.
viscoSHEET: The Economic and Eco-friendly Way of Food Grade rPET Sheet Production – Starlinger
Market Trends and Opportunities in PET Packaging – Husky Injection Molding Systems Ltd
Workshop on 'PET Recycling Markets & Tech' led by leaders from Plastics Forming Enterprises and Ecoce
A vast number of PET resin producers / suppliers, feedstock suppliers, polyester manufacturers, convertors, preform manufacturers, technology providers, recyclers, bottlers and brand owners are expected to attend the event.
Visit the 12th LAPET website for more information.
For inquiries in English, contact: Ms. Hafizah at +65 6346 9218.
For inquiries in Spanish, contact Ms. Tanya at +52 55 3655 0760.