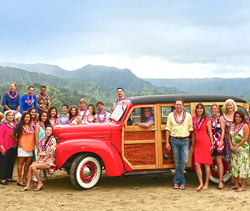 "Continuous community involvement was one of the top reasons cited in support of this prestigious award." - George Corrigan, Hanalei Bay Rotary Club, Kauai
Kauai, Hawaii (PRWEB) August 14, 2014
Hanalei Bay Rotary Club, 79 members strong, recently awarded John C. Ferry, president and founder of Coldwell Banker Bali Hai Realty, as Kauai's North Shore Employer of the Year. In a club comprised of numerous large resorts, real estate brokers, and shopping developments along with dozens of retailers, vacation rental companies, restaurants and activities, this was no easy feat. Certainly, there are employers on the north shore with more employees and income; however, this real estate firm, in operation for 36 years, has been a notable contributor to the people of Kauai.
Continuous community involvement was one of the top reasons cited in support of this prestigious award. According to Hanalei Bay Rotarian, George Corrigan," Bali Hai Realty has grown greatly over the years, and John has consistently given back to the community. A few examples include a donation of $25,000 to the Kilauea Lighthouse, the purchase of a dozen rescue tubes and help installing them, $8,000 for Kauai United Way, and $5,000 for Habitat for Humanity. When the Kauai Independent Food Bank and St. Williams Church in Hanalei needed canned hams for Christmas, John stepped up and provided them."
Hanalei Bay Rotary Club president, Mike Dexter-Smith, cites the food pantry donation as, "Just one example of the kind of continuous commitment that John has given to our 'ohana' (family, community) and that Rotary applauds. John is doing it year in and year out. He exemplifies community over self."
Michael R. Schmidt, principle broker of Coldwell Banker Bali Hai Realty, says Ferry doesn't measure success in dollars, but in the betterment of surrounding communities. "He and his employees have spearheaded numerous work projects and raised funds for a variety of local organizations." Other notable community beneficiaries are Salvation Army, Wilcox Hospital, American Heart Association, Hanalei Civic Canoe Club and the YMCA. John says, "I regard success as measured by how much is given back."
Ferry is also known for how he views his employees as a family. He says, "I wake up in the morning thinking about my ohana of employees and agents and the sense of family they bring to our customers. I have 25 good people on staff who've been here a long time. We extend that sense of family to our customers… they feel connected to us."
If community contribution and a sense of family among employees are measures of a successful employer, the award was highly deserved.
Background:
Coldwell Banker Bali Hai Realty was founded by John C. Ferry in 1978. First known as Bali Hai Realty, the organization became associated with Coldwell Banker, an international real estate brand, in 2000. Bali Hai Realty provides both real estate sales and vacation rental management. The firm, located in Hanalei, has over two-dozen full time and part time employees and agents. For more information, call 808-826-7244 or go to http://www.balihai.com.
Written by: Margy Parker, mp(at)margyparker(dot)com
Photos provided upon request to: Moana Ferry, moana(at)balihai(dot)com