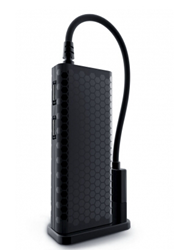 (PRWEB) August 14, 2014
Recently, Hiconn Electronics, a reliable computer peripheral manufacturer from China, has unveiled its new selection of 3in1 USB 2.0 Adapters. Also, it has launched an adapter promotion. Now, its all brand new items are offered at discounted prices, up to 28% off. All the international clients can enjoy the big discounts before September 25, 2014.
"We are excited to provide our new versions of 3in1 USB 2.0 Adapters. As most of us know, few people can afford the expensive computer peripherals from a local retail store. We unveil the new products to facilitate worldwide consumers. In the coming weeks, we will offer more benefits to worldwide clients. Please keep an eye on our homepage," the company's sales representative says.
The followings are some features of the company's 3in1 USB 2.0 Adapters:
Specification:
•2 Port USB 2.0 Hub for USB Devices
•SD card and TF/Micro SD card reader and writer
•1 Port of 10/100MB RJ45 Ethernet for LAN cable
Features:
•Compliant with USB Specification Revision 2.0
•Support USB high-speed (480 Mbps), full-speed (12 Mbps), and low-speed (1.5 Mbps)
•Support 2port USB HUB
•Support SD & TF Card reader
•Support 10/100M Ethernet
•Supports twisted pair crossover detection and auto-correction
•Supports IPv4 IP/TCP/UDP/ICMP/IGMP & IPv6 TCP/UDP/ICMPv6
•Hot-swappable
•Support Windows CE 5.0 / 6.0 / 7.0 / 2K / XP / Vista / 7 / 8
•Support Apple Mac OS X 10.4 to 10.7 Driver for x86 and Power PC
•Support Linux & Android (No need to install drivers)
Application:
It expands the USB 2.0 port of laptop to 2 USB 2.0 port, 1 10/100MB Ethernet RJ45 port, 1 SD and 1 Micro SD/T-Flash card reader.

What's more, Hiconn Electronics is known to provide worldwide clients with various kinds of high end computer peripherals. The company has been working in the electronics field for several years and it has gained a rich experience. Thus, it knows about customer needs and can always provide the most reliable items.
About Hiconn Electronics
Hiconn Electronics (Shenzhen Hiconn Electronics Co. Ltd.) is devoted to designing and manufacturing a wide range of connection cables and customized cable assemblies, offering many HDMI cables, VGA cables, SATA cables, USB cables, 1394 cables, DVI cables, SCSI (Small Computer System Interface) and more. For more information, please visit http://www.hiconn.net/.
Contact Person: James Yin (Sales Director)
Company Name: Shenzhen Hiconn Electronics Co., Ltd.
Address: Shenghua Building., Xixiang Road., Baoan District, Shenzhen, Guangdong Province, China
Zip Code: 518102
Tel: +86-755-8109 8345
Fax:+86-755-2779 3497