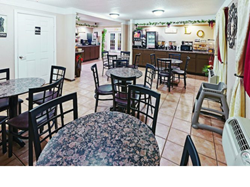 The Window Back Metal Chairs are very popular with restaurants and hotels.
Ardmore, OK (PRWEB) August 14, 2014
Restaurant furniture manufacturer and distributor, Affordable Seating, recently helped the La Quinta Inn in Ardmore, Oklahoma upgrade the seating for its breakfast room by supplying them with new restaurant chairs.
The La Quinta Inn Ardmore North is in the suburbs and close to Gold Mountain Casino, Memorial Park, and Hardy Murphy Coliseum; also nearby are Greater Southwest Historical Museum and Eliza Cruce Hall Doll Museum.
La Quinta Inn, Ardmore North has a spa tub, a fitness center, and a seasonal outdoor pool. Complimentary wireless and wired high-speed Internet access is available in public areas, and a computer station is located on site; there is also a business center on site. A complimentary breakfast is served each morning. Additional amenities include laundry facilities, coffee/tea in the lobby, and complimentary newspapers in the lobby. Self-parking is complimentary. A total renovation of this property was completed in January 2012.
The hotel has 64 air-conditioned guestrooms at La Quinta Inn, Ardmore North which include coffee/tea makers. Beds have pillow-top mattresses and premium bedding. Complimentary wireless and wired high-speed Internet access is provided. 42-inch LCD TVs are equipped with premium satellite channels. All accommodations provide desks and phones; local and long-distance calls are free of charge.
The manager of the La Quinta Inn turned to Affordable Seating because of its reputation for durable attractive furniture at low prices. "The manager was very happy to save so much money. Also, durable seating was important because this is a high traffic hotel," Affordable Sales Rep. Dave M. remarked. Affordable Seating has established itself as a leader in the restaurant furniture business because of its many years of working closely with restaurants and its commitment to high quality; many of its products are made in the U.S.A.
For seating, La Quinta Inn bought Affordable Seating's Window Back Metal Chair in black frame finish and buckskin vinyl seats. The Window Back Metal Chair currently sells for $31 with standard options. A matching Window Back Metal Bar Stool is also available and sells for $49.99. The metal chair and bar stool comes with a standard black sandblast frame finish, plastic glides, and a padded seat. The frame is available in 5 different finishes. Customers have the choice of a solid wood seat or an American made padded seat made of fabric or vinyl. The wood seat is available in 6 different finishes, and for an upholstered seat, there are many options to choose from.
"The Window Back Metal Chairs are very popular with restaurants and hotels," according to David. "They are stylish and versatile enough for any type of establishment. They are also very tough and durable, which makes them a smart buy."
To view Affordable Seating's full selection of restaurant chairs, bar stools, booths, tables, and patio furniture, visit http://www.affordableseating.net or call a customer service representative at (888) 495-8884.
La Quinta Inn, Ardmore North is located at 2432 Veterans Blvd. in Ardmore, OK. They can be contacted at: (580) 223-7976.