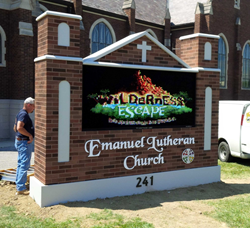 What really sold us on this product was the amazing warranty and price, not to mention the friendly staff at Vizual Express.
Marion, OH (PRWEB) August 19, 2014
For over 100 years, Emanuel Lutheran Church has been faithfully serving Christ and spreading the good news throughout the Marion community. Now, they're excited to spread the news and welcome the community along with new visitors with their new monument LED sign from local sign company, Vizual Express.
"We always welcome everyone to join us in worship, and take advantage of the many opportunities for meaningful service, ministry, fellowship, and spiritual growth and this new sign will certainly enhance the experience." stated Mark Schuring, Pastor for Emanuel Lutheran.
From its beginning, Emanuel Lutheran Church in Marion, Ohio has been ministering to the needs of the community through a variety of educational and social programs. This new full color sign will allow the church to dynamically advertise events, solicit membership, promote public service messages and charitable contributions as well as convey the word of God.
"What really sold us on this product was the amazing warranty and price, not to mention the friendly staff at Vizual Express. I would highly recommend them." stated Frank Addison, Director on the project for Emanuel Lutheran.
Vizual Express provided and installed a complete brick base monument style base with dimensional letters and a 16mm Phoenix™ Series Full Color LED sign. The monument base was provided by Peachtree Foamcraft in Georgia, and the LED sign was provided by Vantage LED in California.
"Peachtree Foamcraft did a fantastic job on the base and the paint work." exclaimed Janey Fassler of Vizual Express.
She continued, "We have worked with many LED suppliers on projects and Vantage LED has surfaced as the BEST! Their sales person (Kyla Godden) is fantastic. She takes care of you before, during, and after the sale! If you have not tried Vantage, you really should consider moving away from some of those big headed suppliers."
It sounds like Emanuel Lutheran Church found the perfect combination of people and products to make their sign project a wonderful reality. Their beautiful new sign has truly been a blessing in helping them reach out and keep in touch with the Marion community.
About Vizual Express LLC:
Vizual Express started doing race car graphics 15 years ago. They evolved to incorporate signage of all kinds from embroidery and screen printing to illuminated signs, monuments, channel letters, carved signage, LED displays, banners, vehicle wraps, promotional items, and apparel. They have a complete installation and repair crew with bucket trucks, auger and crane. They are a full line supplier to all their customers developing long term relationships.