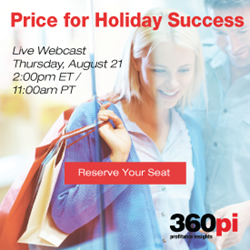 Ottawa, Canada (PRWEB) August 18, 2014
360pi, the leading provider of competitive price intelligence, today announced that Jenn Markey, vice president of marketing, will join Paula Rosenblum, managing partner for Retail Systems Research, in presenting "Price for Holiday Success," August 21 at 11 a.m. PT/2 p.m. ET.
The webinar will provide practical pricing guidance for retailers to help maximize both top and bottom lines this holiday season. Tips to include:

The appropriate level of price dynamism including time-of-week and time-of-day insights across categories;
Effective price strategies heading into Black Friday - whether to discount, raise prices or "hold-the-line" during this critical period;
Proven pricing tactics on all-important Black Friday including if and when discounting becomes counter-productive; and
Effective price strategies Cyber Monday and beyond to maximize sell-through and avoid markdowns.
Click here to register for the webinar.
About 360pi
360pi derives profitable insights from product and pricing big data to help leading omnichannel retailers, etailers, and manufacturers compete and win in a price transparent world. 360pi's customer base accounts for over $US100 billion in annual retail sales and includes Ace Hardware, Build.com, Overstock.com, and RIS Fusion award-winner Best Buy Canada. 360pi monitors millions of products with unprecedented accuracy to give retailers and manufacturers real-time visibility into the market with full awareness of the competitive pricing landscape to "right price" for their respective customers. Ultimately, 360pi helps customers make smarter pricing decisions to drive increased revenues and margins.