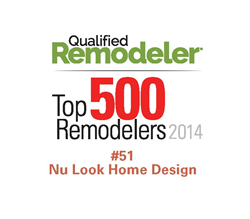 "It's an incredible accomplishment to climb even higher on Qualified Remodeler's Top 500 list this year," said Nu Look Home Design Inc owner Patrick Fingles.
(PRWEB) August 18, 2014
Qualified Remodeler, the premier publication serving contractors who specialize in residential and light commercial remodeling has selected Nu Look Home Design as number 51 of the Top 500 Remodelers of 2014!
Nu Look Home Design was chosen as a 2014 Top 500 by the Qualified Remodeler editorial staff for meeting a set of criteria including; installed remodeling dollar volume, total years in business, industry association membership, industry certification, industry awards and community service.
About Nu Look Home Design:
Nu Look Home Design has been roofing with integrity, quality, value and service since 1999. Headquartered in Baltimore, Maryland, the growing business has locations throughout the east coast, stretching from Virginia,Washington DC, Maryland, Pennsylvania, Delaware and New Jersey. A Platinum Preferred Contractor with Owens Corning, Nu Look Home Design provides top quality Roofing, Replacement Windows, Vinyl Siding, Doors and Gutter Systems with the industry's best warranties. For more information, dial 800-279-5300 or visit our website, http://www.nulookhomedesign.com.
"Based on Qualified Remodeler's analysis, the Top 500 firms tend to share several common attributes, including excellent business acumen, a commitment to customer service, insightful sales techniques and strong customer loyalty," said Laurie Banyay, managing editor. "We're positive these attributes helped put the firms on this list and contribute to their success."
Additional information on the Top 500 can be found in the August issue of Qualified Remodeler and at http://www.ForResidentialPros.com/Top500.