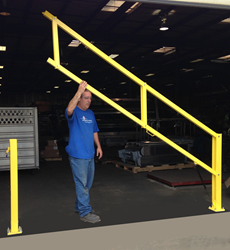 Sheffield Village, OH (PRWEB) August 16, 2014
Benko Products, Inc., a leading innovator in material handling and safety products, announces that its Protect-O-Gate loading dock safety gates are an economical solution to providing fall protection for personnel working near dock doors and truck loading pits.
The dock gate's cantilever design allows it to completely lift up and out of the way. Featuring heavy duty carbon steel and aluminum construction, the gate is ideal for harsh, high-use industrial applications. Gas cylinder assisted operation makes the gates operator friendly. The dock gate is designed to meet varying widths while taking up little space. Standard models protect 8', 9', 10' and 12' wide openings. Custom sizes, finishes and air or electrically powered models also available. Split style gates available for use in areas with low height clearance.
For more information on the Protect-O-Gate Dock Gate, contact Benko Products, Inc. at (440) 934-2180 or go to http://www.benkoproducts.com.
About Benko Products, Inc.
Benko Products, Inc. is a privately held company based out of Sheffield Village, OH. Benko Products was founded in 1983 by pioneer John Benko. Benko's leading product lines include Sahara Hot Box® drum warming ovens, industrial batch ovens; mezzanine safety gates, chemical storage systems and the GREEN Access & Fall Protection line of access and fall protection equipment for loading/unloading trucks and railcars.