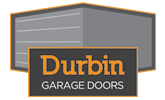 Safety! Modern doors have photo safety sensors and pressure sensors.
St. Louis, MO (PRWEB) August 15, 2014
In an effort to encourage garage door safety, Durbin Garage Doors LLC is offering new customers a flat rate new garage door replacement with installation and tax for only $939. In addition, customers may add in a LiftMaster, .5HP Opener with MyQ technology, which allows customers to control their opener via their smartphone for only $324, instillation and tax included. For an additional $25, customers may opt for setup on their smartphones.
Why is it important to have a modern and up to date garage door professionally installed?
"Safety! Modern doors have photo safety sensors and pressure sensors," explains Jim Null, owner of Durbin Garage Doors. Modern garage doors are also much quieter and energy efficient compared to outdated and older models.
When a garage door is not professionally installed, consumers run the risk of the garage not being sealed against the house properly, or springs being out of place in the door; these are two problems that Durbin Garage Doors has encountered frequently. Similarly, having a garage door professionally installed ensures the garage door is balanced, level and functions properly. This minimizes the chance for bodily injury, damage to property, and improves energy efficiency.
Though many people go in and out of their garages everyday, several times a day, they do not always know if their garage door is safe. Older garage doors have outdated safety features which may be irrelevant to the busy lifestyles of today's modern families. New doors are equipped with automatic reverse triggers, such as lasers that are able to detect motion, or sensors that can tell when the door is coming into contact with an object or a person. By taking advantage of this offer, customers can help ensure that their homes, vehicles, personal property and families are safe and secure.
Durbin Garage Doors LLC has been serving the Saint Charles and Saint Louis Counties for over 30 years. As a licensed, bonded and fully insured full-service Garage Door Company, Durbin Garage Doors LLC offers high quality brands for garage repairs and renovations, and offers around-the-clock service at one flat rate. Their technicians are trained to work on all garage door brands. For more information, visit http://www.durbingaragedoorsllc.com, call 636-443-9385, or email durbingaragedoorsllc(at)gmail(dot)com.