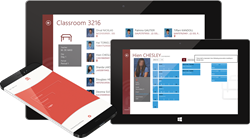 The Hall Monitor mobile app is beneficial for student safety, especially in emergency situations like fire drills and lockdowns.
Montreal, Quebec (PRWEB) August 15, 2014
An innovative mobile application called Hall Monitor™ will be deployed across all schools in Quebec this year. The development company behind the Hall Monitor app, emAPPetizer Inc., has partnered with GRICS (Société de Gestion du réseau informatique des commissions scolaires) to offer the mobile application for free for the entire 2014/2015 school year.
The Hall Monitor mobile app allows educators, like principals, teachers and school administrative staff to view student, teacher, and classroom information from any smartphone or tablet. Student marks, absences, parent contact numbers and health records are just some of the information shown in the application.
The mobile app is especially beneficial in emergency situations like fire drills and lockdowns where principals and teachers can immediately view active classrooms and take attendance to be sure all students are accounted for.
Hall Monitor enables student safety, simplifies communications between educators, parents and students, and is extremely easy to use with no additional training required.
emAPP is proud to have partnered with GRICS, to offer schools in Quebec the opportunity to use Hall Monitor, and the ability to access important student information anytime, anywhere from any mobile device.
To view the app in action, give us a call at: 514-700-2277
About emAPPetizer Inc.:
emAPP is an enterprise mobile application development company located in Montreal, Quebec. The company specializes in creating simple visualizations of complex enterprise databases, and has developed proprietary R&D solutions specifically for enterprise mobile applications. emAPP solutions work on any popular tablet and smartphone platforms including Windows 8, iOS and Android.