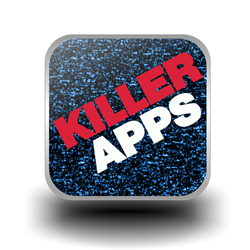 We looked at the latest technology for students heading back to school, from toddlers to college, that could fit their needs without breaking the bank of parents.
West Palm Beach, FL (PRWEB) August 19, 2014
With summer vacation winding down, the U.S. Census Bureau expects around 78 million children and adults to head back to the classroom. Back to School spending is targeted at over $8 billion just for electronics...a 7% increase over last year!
Award-winning Tech Expert Andrea Smith was brought in by News Media Group and their technology lifestyle website KillerApps.TV to look at some of the tech gadgets that will help bring out the best in students...from toddlers to college this school year.
"Parents want to ensure their child has an educational edge," said Karl Wayne, News Media Group's executive producer. "In order to do that, we looked at the latest technology that could fit their needs without breaking the bank."
Technology featured on KillerApps.TV included:
Little Scholar. Little Scholar is the best tablet to prepare children for pre-K through 1st grade. Created by the experts in early education, School Zone has used their knowledge and teaching expertise to create this educational, child-friendly, android tablet. Thoughtfully designed for young children it boasts a large 8 inch display and easy to press, big button menus. Ready to play right out-of-the-box Little Scholar doesn't require any extra purchases, downloads or Wi-Fi connection. It is the only tablet fully loaded with 150+ uniquely fun, apps, books, songs, and videos. Designed to teach kids ages 3-7 the essential skills needed for school including; math, reading, spelling, and more. Little Scholar is the only kids' tablet 100% focused on education. Visit http://www.schoolzone.com/little-scholar for more information.
VTech Kidizoom Smartwatch. The innovative, multi-function VTech Kidizoom Smartwatch is packed with robust features such as a camera, video recorder, fun photo effects and built-in games, in a wearable, kid-friendly, take-anywhere gadget. It features a large, easy-to-use color touch screen, as well as more than 50 digital and analog clock displays, making it perfect for kids learning to tell time. Other features include a rechargeable battery, alarm clock, timer, stopwatch, voice recorder and parental game controls, and it's available in four vibrant colors. Parents can access the Learning Lodge app store to download even more games and watch displays. For more information, visit http://www.vtechkids.com.
Intel-based Dell Inspiron 11 3000 2 in 1 device. When trying to decide what device is best for schoolwork and personal computing desires, students no longer need to make an "and/or" decision. Intel-powered 2 in 1 devices offer the mobility of a tablet combined with the power of a laptop in one sleek device. Starting at just $399.99, the Dell Inspiron 11 3000 2 in 1 device is powered by an Intel® processor and runs on the Windows 8.1 operating system. Weighing just over 3 lbs. and measuring 1-inch thin, this device offers maximum portability as well as epic battery life with an estimated 8 hours of unplugged use. For more information, visit http://www.intel.com/2in1.
Delphi Connect. Delphi Connect enables drivers to carry out any of the following features remotely from their smart phone. The virtual key fob on a smart device can lock or unlock vehicle doors, open the trunk, start or stop the engine and operate the panic horn. Geo-fencing designates up to six circular "fences" around specified locations and sends alerts when the vehicle enters and exits a fenced area. Live tracking enables real-time vehicle tracking with five-second updates, showing vehicle speed and direction. Trip logging gives a summary of all trips from engine start to stop (date, times, distance, starting and ending locations). Vehicle health gives a diagnose of the vehicle's engine health, vehicle performance issues or monitors overall vehicle status. Alerts can send notifications on all of the above features. Visit http://www.delphiconnect.com for more information.
Toshiba, Satellite C55-B5272, available at Staples. 15.6" Laptop, 6GB Memory, 750GB Hard Drive, Intel Core i3, Windows 7 Home Premium. Get connected without cutting corners with the value-driven Satellite® C55-B5272 laptop. This reliable, full-powered Windows® 7 PC, available at Staples, is a solid performer that's easy to use and great for everyday tasks like email, web browsing, online banking, shopping, creating docs, slides and spreadsheets and playing casual games. A roomy 15.6-inch diagonal HD TruBrite® widescreen display gives plenty of room for work and play, while plug-and-play essentials make connecting with other devices a snap. Available at Staples stores and online at http://www.staples.com
For more information about all of the featured products, visit http://www.KillerApps.TV.
About News Media Group Inc.
Founded in 2009, News Media Group Inc. (NMG) produces original television and radio programming with industry experts and celebrities that help public relations professionals gain media exposure for their brands and clients. Based in West Palm Beach, Fla., with studio locations in South Florida, New York and Los Angeles, News Media Group is a leader in organizing and producing high profile Co-Op and Exclusive Satellite Media Tours (SMTs), Radio Media Tours (RMTs) and Ground In-Studio Media Tours (GMT's) throughout the year with Fortune 500 and other leading companies and public relations agencies. NMG shares these trends with consumers through its technology website, KillerApps.TV, and its consumer lifestyle website, InTheNews.TV and their "What's #Trending Now" segments.
Visit http://www.newsmg.com to learn more.
Contact:
Karl Wayne, Executive Producer
News Media Group Inc.
(334) 440-6397
Karl(at)newsmg(dot)com