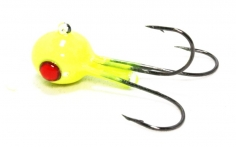 If you are not using Rockport Rattler jigs, you are wasting gas!
Helotes, TX (PRWEB) August 18, 2014
Today, the Chicky Tackle Company, LLC, a company that specializes in the development of lures that trigger a strike via the fish's sensory system, announced the release of their new OutlawMAX Game Changer™ crappie jig. The jig is now available via Chicky Tackle dealers nationwide.
The Chicky Tackle Company – best known for its Rockport Rattler® products – developed the new OutlawMAX Game Changer (OutlawMAX™) in conjunction with crappie pro-staff member Whitey Outlaw. OutlawMAX's three hook jig head is credited for having helped the Rockport Rattler team of Whitey Outlaw and Mike Parrott achieve and hold the Angler Team of the Year for most of the 2014 season.
Mike Valentine, Owner and President of Bass Pro Crappie Masters Tournament Trail, believes the new OutlawMAX will be a game changer in crappie fishing. "Normally you can expect to lose 50% of strikes on a shallow bite with the bigger crappie, but I believe the OutlawMAX will reduce this percentage down to near zero," said Valentine.
Outlaw agrees with Valentine and says that is the sole reason for the design of this jig. "Out of 35 years of tournament fishing, I have not seen any hook perform like Rockport Rattler Panfish jig heads have for us in the past two years," said Outlaw. "Their patented rattle chamber and light reflecting eyes will entice more strikes than any other jig head on the market. The OutlawMAX will only improve this already outstanding performance. Since starting to use them this spring, we have won two major tournaments and another state championship, as well as had seven other top five finishes on the Bass Pro Crappie Masters 2014 Tournament trail," added Outlaw. "This has allowed my partner and me to lock up the 2014 Team of the Year race way before the end of the tournament trail season. I like to say, if you are not using Rockport Rattler jigs, you are wasting gas!"
In the four years Chicky Tackle has been in business, it has taken its Rockport Rattler jigs national and expanded the product line to include almost all species of fish in fresh and saltwater. "The Rockport Rattler product line has quickly become one of the hottest selling jig heads on the market, and a favorite must have item in tackle boxes across the country," said Charles Sablatura, owner of Chicky Tackle. "They simply will out catch any other jig head on the market."
For more information about the new OutlawMAX, the science of Rockport Rattler jigs, or to locate a Chicky Tackle dealer near you, visit http://www.chickytackle.com.
About Chicky Tackle Company, LLC
Chicky Tackle Company, LLC, is the parent company of The Rockport Rattler® product line, and a tireless supporter of hunting and fishing related sports as well as the natural resources that are crucial to sustain these activities. President and owner, Charles Sablatura, has been a volunteer and donor to the CCA for 20 years as well as avid contributor to Texas Parks and Wildlife's Operation Game Thief, Quail Unlimited and Ducks Unlimited fund raising efforts. Charles and his wife Vicky are also very involved in many charitable organizations from the Wounded Warriors, Heroes on the Water, Gold Star Families, Cystic Fibrosis Foundation, as well as various smaller noteworthy causes across the country.
About The Rockport Rattler
The Rockport Rattler® jig combines sound, color and light reflecting diamond cut eyes to give every angler an advantage over conventional jig heads. Since 2003, by employing a combination of sound, eyes and color, The Rockport Rattler has become one of the most effective jig heads on the market today. Rockport Rattler was awarded a US Patent in 2009 for its innovative design. For more information, go to http://www.chickytackle.com, email sales(at)rockportrattler(dot)com or call 1.877.514.8252.