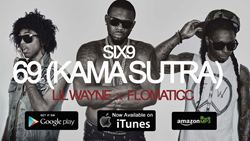 (PRWEB) August 18, 2014
South Carolina's unsigned artist Six9 has been buzzing throughout the internet collaborating with popular American producers and recording artists such as; Shawty lo, 2Chainz, Flomaticc, Shawty Redd, Metro Boomin and many others. Six9 was first recognized for releasing a successful mixtape titled "Six" that reached 3 million viewers on popular hiphop website worldstarhiphop.com. Recently Six9 was seen in the studio working with Hiphop Icon Lil Wayne recording a new single titled "69 Kama Sutra".
Sources say Lil Wayne intentionally wrote the song tailored to Six9's stage name for branding purposes. Six9 & Lil Wayne brought in Texas Producer Flomaticc to compose the beat for the song. A date hasn't been set for the filming of the single's music video due to Lil Wayne traveling the country on his "Drake Vs Lil Wayne Tour" but the single will be released at the end of august. Flomaticc is expected to also be making an appearance as a recording artist on the song. Keep your eyes open when the collaboration of the Year hits radio stations all over the country.
Want to know more about Six9's latest mixtape?
Six9's latest Mixtape consist of 16 tracks produced by various producers in the music industry. You can watch his music videos at Youtube.com. The South Carolina rapper is also available in stores now. Check him out on, Itunes, Amazon, Googleplay, IHeartRadio, and many more stores worldwide. If you're a fan of hip hop/rap music and looking to expand your music collection look no further. Look forward to hearing more news about the unsigned South Carolina rapper. Recommended songs to listen to; "Bet you don't" Produced by Flomaticc, "My 22" produced by Shawty Redd, "Black" Featuring 2Chainz" produced by Flomaticc, "Boomerang" Produced by Metro Boomin. These are the songs that have been favored by many curious listeners. Download the mixtape today!
Who is Six9s main producer?
Flomaticc real name King Troy Malone Jr, is an American producer, songwriter, recording artist known for producing the songs "Black" for American recording artist 2Chainz & Six9, "Columbia" for recording artist Shawty Lo & Six9, "69 Kuma Sutra" for Lil Wayne and Six9, which he was later, featured on as a recording artist. Flomaticc was recruited to Six9's audio & video production team along with popular producers Metroboomin, Shawty Redd, & Seth Firkins. Flomaticc was requested to produce an intro song by members of GOLD TEAM, which is owned by MMA fighter Jorge Luis Patino. He accepted the request and produced a song titled "Fight for your life" which they would play at live fights. Flomaticc has been seen partying with popular names like; Slim thug, Mike jones, Trae the truth, Shawty lo, Six9, lil Jon, Bun b, Mims, Shwayze, Terra Jole, Tonya Banks and Jojo.
Flomaticc was born in April 20th 1988,Austin Texas, in his free time he studies Metaphysics; Kundalini, Tantra, The Chakra System, Astrology and Tarot. Flomaticc also takes private classes for game design.