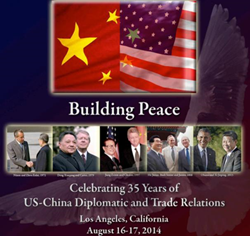 the U.S. and China have the moral responsibility and the means to turn around the growth in CO2 parts per million from 400 today to 350 ppm in ten years
(PRWEB) August 15, 2014
U.S. and China are the world's greatest emitters of greenhouse gases and have the world's largest economies. "As a result, the U.S. and China have the moral responsibility and the means to turn around the growth in CO2 parts per million from 400 today to 350 ppm in ten years," says Jerome Glenn, CEO of The Millennium Project." In 1963 most believed landing a man on the moon within the decade was impossible. Today, most believe turning around climate change in ten years is impossible. It is this kind of 'Apollo-like land a man on the moon' goal that is necessary to focus world resources and create strategic trust between the US and China."
Delegations from the U.S. and China will come to Los Angeles, California, August 16 and 17, 2014 to review the past and explore the future of U.S.-China relations. "Building Peace: The Growth of US-China Diplomatic and Trade Relations Celebration and Forum on the 35th Anniversary of the Renewal of Diplomatic Relations between the United States and China" is sponsored by the Chinese-American Federation and the Zhou Enlai Peace Institute.
"This event has three central purposes, says Michael North, co-founder of the Zhou Enlai Peace Institute, "to look back, understanding and honoring the achievements of the past; to focus on today, grasping the issues and opportunities of this moment in history; and to look forward, establishing principles on which future generations of Chinese and Americans will build on this foundation."
A China U.S. Apollo-like goal to reduce greenhouse gas emissions from 400 ppm to 350 ppm could be the most efficient way to address one of the principal underlying factors of environmental security, as well as building trust between two of the leading world powers. "Focusing on environmental security is the mostly likely way to build strategic trust between the militaries of the U.S. and China," says Elizabeth Florescu, Director of Research for the Millennium Project, "and hence, an important strategy for building peace."
The Millennium Project is a global participatory think tank connecting 50 Nodes around the world that identify important long-range challenges and strategies, and initiate and conduct foresight studies, workshops, symposiums, and advanced training. Its mission is to improve thinking about the future and make it available through a variety of media for feedback to accumulate wisdom about the future for better decisions today. It produces the annual "State of the Future" reports, the "Futures Research Methodology" series, the Global Futures Intelligence System (GFIS), and special studies, including environmental security. Over 4,500 futurists, scholars, business planners, and policy makers who work for international organizations, governments, corporations, NGOs, and universities have participated in The Millennium Project's research, since its inception, in 1991. The Millennium Project was selected among the top ten think tanks in the world for new ideas and paradigms by the 2013 University of Pennsylvania's GoTo Think Tank Index, and 2012 Computerworld Honors Laureate for its contributions to collective intelligence systems. The 2013-14 "State of the Future" is now available.