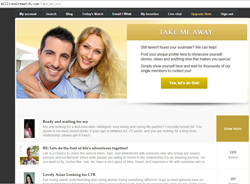 (PRWEB) August 16, 2014
The millionaire matchmaker site where elite singles and admirers look for relationships recently launched a feature to help members find dating and ideal matches more easily. The name of this feature is "Take me away".
The introduction of the feature is "Still haven't found your soulmate? We can help! Post your unique profile here to showcase yourself, stories, ideas and anything else that makes you special."
It is a platform for members who may look for matches online for a long time without success or those who want to find the special persons in shorter time.
"Take Me Away" is accessible both by paid and standard members. A user's geographical location is never a limitation to make the most of this feature. Whether they want to find soul mates, dates, or ideal matches, they can access this feature by computers or mobiles. This dating site lists some featured millionaires in different parts of the world. It is the top millionaire matchmaker site. With this new feature, members will get a better online dating result.
When viewing the pages of "Take Me Away", one verified millionaire from Oregon, US wrote:
"Life is a chance to share the special times, trips, and adventures with someone else who brings joy, peace, passion and excitement! When both people are willing to invest in the relationship it is an amazing journey. Do you want to fly, scuba dive, sail, ski, have a nice glass of wine, travel, and experience life with someone who is mature enough to have worked through many of life's issues but yet is very young and is growing younger every day? Bring it on, and let's see where it goes! But the best part is what you bring to the party in terms of what you love and your experience and excitement about life."
The feature on the millionaire dating site helps members show themselves and assist them in getting dream matches as fast as possible no matter where they are located in the world. All they need to do is to post their profiles, stories, ideas or anything else that will make them special.