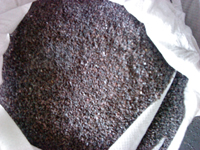 Zhengzhou, China (PRWEB) August 15, 2014
According to iAbrasive latest news, (See the original article at: http://www.iabrasive.com/articles/china-corundum-companies-suffered-overstock) recently, China corundum market is still in recession. Corundum producing companies have been suffering from continuous overstock. Although corundum price hasn't declined, many suppliers are obsessed by credit flow. Impacted by industry integration policy, a group of steel companies will be shut down in the following months. As a result, upstream corundum market may maintain down trend.
However, since iron ore price has decreased, major steel factories in China began to benefit in July and they are likely to purchase refractory materials recently. Besides, with electricity price being lowered down to 1 min per kilowatt hour soon, major steel factories may have an increasing demand for refractory materials. Because a majority of existing steel factories in China are competitive, their purchasing goods are high-end products, it is predicted that superior corundum demand is to increase slightly, which is not able to turn back the current situation.
For more information, please visit: http://www.iabrasive.com/.