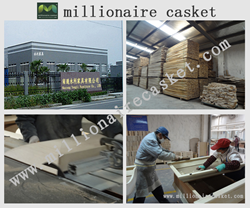 (PRWEB) August 15, 2014
Recently, Millionaire Casket, a well-known casket retailer online, has announced a new poplar caskets promotion, which is specially designed for European and American markets. Every old and new customer can enjoy the greatly discounted prices.
MillionaireCasket.com has been specializing in various types of caskets for many years, and its major products are metal caskets and wood caskets. All its products are of high quality. What's more, these high quality products are offered at prices much lower than local manufacturers. Thus, the company has earned a great reputation in the casket industry. Along with caskets, it provides other funeral related products such as stretchers, body bags, church trucks and so on.
The CEO of the company, said, "The promotion is for this week only. Discounts are offered from 20% to 80% off. Other products like stretchers and body bags are also offered at affordable prices. Take a few minutes to browse our website please, and you can find a suitable product. Our staff is ready to offer customers with useful advice, for example, how to plan a funeral efficiently and with as little stress as possible."
"We provide a wide range of wood caskets, metal caskets and more. They are different in material species, finishes, and colors. Simple caskets as well as intricately designed and embroidery caskets are also available at our online store. The interior of every casket is made carefully. We use secure chemicals to keep the caskets free from rust and corrosion," he added.
About MillionaireCasket.com:
MillionaireCasket.com is a funeral products manufacturer and wholesale distributor. It is based in Mainland China and operates its business worldwide. More details about the company and its products can be found at: http://www.millionairecasket.com/67-poplar-caskets.