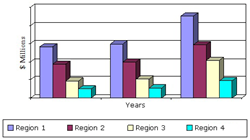 Global Market for Operating Room Equipment to Reach Nearly $21.0 Billion by 2019
Wellesley, Mass. (PRWEB) August 15, 2014
BCC Research (http://www.bccresearch.com) reveals in its new report, OPERATING ROOM EQUIPMENT: GLOBAL MARKETS, the global market for operating room equipment is expected to reach nearly $21.0 billion by 2019, registering a five-year compound annual growth rate (CAGR) of 9.8% from 2014 to 2019. The Asia market is expected to record highest growth in terms of CAGR with 15%.
There has been a significant transition with respect to technology adoption in modern hospitals. Increasing demand for operational efficiency, need for precision, and technology innovation has led to adoption of automated and sophisticated technologies within operating rooms. Increasing focus on healthcare also means that while quality improves, scrutiny of high costs also makes it important for hospitals to contain their prices. To help achieve a balance and cap the spiraling costs, many hospitals are depending on acquiring used and refurbished surgical equipment.
The global operating room equipment was valued at $12.2 billion in 2013. This is expected to grow from $13.1 billion in 2014 to $21.0 billion by 2019, registering a CAGR of 9.8% from 2014 to 2019. Europe will grow steadily from $4.0 billion in 2014 to nearly $6.0 billion in 2019. In terms of five-year CAGR, Asia will record the highest output with 15% followed by rest of the world (ROW) with 11.7%.
"Despite these challenges, operating rooms are constantly evolving to provide better facilities, and existing growth is expected to continue," says BCC Research analyst Bhavna Joshi. "Constant developments and innovations by companies make improvement in operating rooms a given."
OPERATING ROOM EQUIPMENT: GLOBAL MARKETS identifies and analyzes the market trends, influencers, drivers, restraints, and opportunities for each of the markets, and estimates the market revenues from 2014 to 2019. It also assesses various strategies adopted by the operating room market to enhance their market positions in terms of product launch, mergers and acquisitions, and joint ventures. Key companies, product portfolios, strategies, and recent developments are also included in this report.
Editors and reporters who wish to speak with the analyst should contact Steven Cumming at steven(dot)cumming(at)bccresearch(dot)com.
About BCC Research:
BCC Research publishes market research reports that make organizations worldwide more profitable, with intelligence that drives smart business decisions. These reports cover today's major industrial and technology sectors, including emerging markets. For more than 40 years, we have helped customers identify new market opportunities with accurate and reliable data and insight, including market sizing, forecasting, industry overviews, and identification of significant trends and key competitors. We partner with analysts who are experts in specific areas of industry and technology, providing unbiased measurements and assessments of global markets. Our clients include the top companies in industries around the world, as well as universities, business schools, start-ups, consulting firms and investment companies. BCC Research is a unit of Eli Research LLC. Visit our website at http://www.bccresearch.com. Contact us: (+1) 781-489-7301 (U.S. Eastern Time), or E-mail information(at)bccresearch(dot)com.
Data and analysis extracted from this press release must be accompanied by a statement identifying BCC Research LLC, 49-2 Walnut Park, Wellesley, MA 02481, Telephone: (+1) 781-489-7301; E-mail: editor(at)bccresearch(dot)com as the source and publisher.