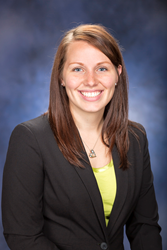 Huntingdon, Pennsylvania (PRWEB) August 20, 2014
Rachel C. Dubois joined Mutual Benefit Group as billing manager in August 2014. In this position, she manages the people and processes associated with the collection and deposit of all monies payable to the Company; oversees implementation of software changes to accounts receivable; leads billing initiatives; and drives through process changes and/or improvements.
Before coming to MBG, Rachel was employed at Huntingdon Fiberglass Products, Huntingdon, Pennsylvania, first as a human resource specialist and then as a customer service specialist. A graduate of Juniata College with a bachelor's degree in management, Rachel was involved in collegiate varsity soccer, cheerleading, and intramural sports. Rachel and her husband are the parents of a 16-month-old son. In addition to spending time with her family and their four dogs, she also enjoys sports.
Mutual Benefit Group is a regional property/casualty insurance carrier headquartered in Huntingdon, Pennsylvania, that has been providing coverage for personal autos, homes, and businesses since 1908. The company's insurance products are underwritten through its member companies, Mutual Benefit Insurance Company and Select Risk Insurance Company. Rated A- (Excellent) by A.M. Best, Mutual Benefit serves nearly 80,000 policyholders in Pennsylvania and Maryland through 250 independent insurance agents. Mutual Benefit Group was awarded a 2013 Stakeholder Team Accomplishment Recognition (STAR) (TM) award from Demotech, Inc., a financial analysis firm specializing in evaluating the financial stability of regional and specialty insurers. Only 44, or 1.6%, of the 2,736 carriers reviewed by Demotech received the STAR (TM) award based on their 2012 operating results. Mutual Benefit Group was also named to the list of Best Places to Work in Pennsylvania for 2013 for the fifth consecutive year, and was named one of the Top 100 Organizations by Pennsylvania Business Central.