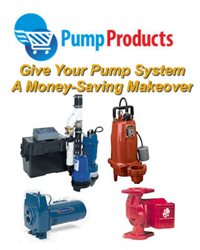 'We are offering the most reliable and advanced products on the market for replacing and upgrading residential and commercial hydronic systems with a special promotional discount in addition to free delivery in many cases.'
Wallington, NJ (PRWEB) August 19, 2014
Whether you are looking to improve your water delivery system, add a bathroom to your home, or get your heating, cooling and waste water systems in top working condition, Pump Products has the equipment you need. Many popular sump pumps, sewage pumps, irrigation pumps and circulator pumps are in stock and available for quick delivery, with free shipping available on standard orders totaling $299.00 or more. Now through the end of September, enter coupon code "$5bucks" when you check out, and receive $5.00 off of any purchase over $100.00.
"Eventually all mechanical equipment needs to be replaced," says Product Expert Fred Hettinger. "Sump pumps, sewage pumps, well pumps and circulators all have moving parts that wear-out over time. Replacement or repair of worn-out equipment is necessary to keep a system running and to keep operating costs down. We are offering the most reliable and advanced products on the market for replacing and upgrading residential and commercial hydronic systems, with a special promotional discount and free delivery in many cases."
Hettinger advises property owners to check three key areas on a regular basis.
1. Basement-level Sump Pumps: Fill the sump pit with water and check that the water discharges from the pit. In flood-prone areas, consider keeping a battery back-up system on hand. Pump Products offers a variety of quality sump pumps and sump pump back-up systems by Zoeller, Hydromatic, PHCC Pro Series and other premium manufacturers to provide reliable protection for your home. The Zoeller Aquanot 508 Battery Back-up Sump Pump System is a top choice for quality and dependability.
2. Hot Water Circulating Pumps: Make sure pumps are silent and leak-free. Leakage damages the pump and introduces air into the system, forcing it to add make-up water. If the pump is noisy, have it checked immediately to keep a minor repair from turning into a major one. Pump Products offers an extensive variety of circulator pumps and repair parts by leading manufacturers including Armstrong, Grundfos and Taco to facilitate the maintenance of every system.
3. Sanitary Sewer Lines: Confirm the check valve is operational at the point where the sewer line enters your building. Have the line inspected every two years, particularly if there are trees growing around it. If chronic clogging is a problem, consider installing a grinder pump. Pump Products stocks a variety of pumps designed for use in clog-prone residential sewage ejector systems, including Liberty's PRG101A Grinder Pump, which brings commercial-grade materials and technology to the residential market in a small, easy-to-install design.
In addition to improving the efficiency and reliability of a home or workplace, early fall is an optimal time to add conveniences like a new bathroom. Few items deliver more home improvement value than toilet pump systems like Zoeller's Qwik Jon 202 Ultima Grinder Pump & Tank and Liberty's AscentII-ESW Macerating Pump System. These units will essentially add a bathroom to a home or office without requiring demolition or major construction.
Pumping water from a private well is a great way to lower water bills throughout the year. By drawing on water sources independent of municipal supplies, well pump systems can be big money savers in areas with high water rates. Pump Products stocks top-selling shallow and deep well pump models by Berkeley including 7HL and 10HL Deep Well Pumps and 5HN, 7HN and Berkeley 10 HN Shallow Well Pumps.
"Our current inventory enables us to offer next-day delivery anywhere in the U.S.," says Hettinger. "Factor in our lowest price guarantee and the promotional discounts we offer and it doesn't make sense to buy a pump anywhere else."
Enter coupon code "$5bucks" when you check out to receive $5.00 off of any purchase over $100.00.
COMPANY INFORMATION
Pump Products is an online pump retailer offering an extensive selection of pumps and repair parts by leading manufacturers including Armstrong, Bell & Gossett, Taco, Berkeley, Hydromatic and BJM to residential, commercial and industrial customers. For more information, visit Pump Products at http://www.pumpproducts.com or call 1-800-429-0800.