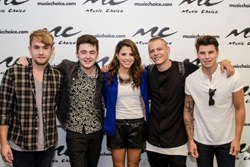 NewYork, NY (PRWEB) August 16, 2014
Music Choice will air an exclusive behind the scenes first look at Rixton's new music video "Wait on Me" on Saturday, August 16, 2014. Footage from the video shoot will premiere on Music Choice Play's hit show "You & A" at 12 PM ET with Host Clare Galterio as a special addition to their interview.
You & A is a hosted 30 minute popular music show that encourages fans to participate. The action packed show offers fans unparalleled access to artists, music video premieres, live studio performances from up and coming artists, the ability to ask artists questions directly via Twitter, and much more! Prior artists featured on the show include Magic, Austin Mahone, Keyshia Cole, Weird Al, TLC, and R5.
New episodes premiere Saturday's at Noon ET on Music Choice Play and Music Choice's Hit List Music Channel then re-airs on Video on Demand. See what artist will be live on the next episode of You & A, then, head over to Twitter and tweet your question for them @MusicChoicePlay along with #YouandA.
Music Choice Play is a music video, lifestyle and entertainment network for Millennials, offering them a unique live television and social media experience. Viewers interact with Music Choice Play through Twitter by voting for what videos get played and tweeting live with their favorite artists on shows like You & A. The network features music videos from today's hottest artists like Bruno Mars, Miley Cyrus, Macklemore, Beyoncé, Demi Lovato, and One Republic. Music Choice Play offers a full web, mobile and second screen experience at play.musicchoice.com. The website features a live stream of the network, the ability to seamlessly submit your video to control the network, and a substantial social presence. Music Choice Play also has dedicated mobile apps that enhance the viewing experience.
Music Choice Play is currently available throughout the US via several providers including AT& T U-verse®, Cox Communications, RCN, Suddenlink, Verizon FiOS, and many more! For more information, log on to http://www.MusicChoice.com.
For more information on Music Choice, log on to http://www.musicchoice.com
###