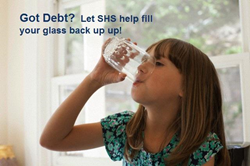 Accessing your own money through a lump sum transaction, when you need it, is a far more sensible option than using a loan service that charges exorbitant interest rates.
Rockville, MD (PRWEB) August 18, 2014
Secure Horizon Settlements, a trusted lump sum company in the financial services industry, wants to put out a statement offering their assistance to structured settlements recipients and lottery winners who find themselves in debt or sudden need of a large lump sum of money. It can be tempting to use a payday or title loan service, but these types of companies often charge high interest rates and can cause further detriment to their financial situation.
SHS Representatives are available to walk annuitants through the option of selling their future lottery payments or selling structured settlement payments. This means that the annuitant would be leveraging money that they are already due, rather than borrowing money. While selling future payments for a lump sum does result in a discount of the total amount they are due, it simply allows them to access a larger amount of it to settle immediate debts, rather than small amounts spread out over time. This lump sum could be invested or used to settle immediate debt.
As far as "instant money" goes, using a service to legally turn a payment stream into a lump sum can reap bigger rewards than deciding to borrow at a high interest rate. This converts money that the annuitant essentially already has into a liquid asset that can be used at their discretion.
Managing Partner of Secure Horizon Settlements, Ken Abraham, states, "Accessing your own money through a lump sum transaction, when you need it, is a far more sensible option than using a loan service that charges exorbitant interest rates."
Secure Horizon Settlements is also able to offer zero percent interest cash advances to annuitants who qualify for their SHS Fast Cash program. Unlike a loan, there is no need to repay SHS; this advance is meant to be a cash infusion available in as little as twenty-four hours that would enable an annuitant to keep creditors at bay while SHS's team guides the client through the funding process and receipt of the total lump sum amount.
About Secure Horizon Settlements, LLC
Secure Horizon Settlements LLC, based in Rockville, MD, is a nationally-recognized financial services company that purchases structured settlement payments, lottery annuities, and casino jackpot wins. Secure Horizon Settlements was created to meet the unique financial demands of Structured Settlement recipients and Lottery winners wanting to sell their structured settlement, and lottery annuity payments fast. Founded in May 2012, Secure Horizon Settlements has experienced tremendous growth under a veteran management team with decades of industry experience.
Secure Horizon Settlements takes genuine strides to meet the personal needs of their customers while ensuring they are treated both fairly and professionally. At the same time, their dedicated legal and management team is committed to delivering high quality service that streamlines the funding process. Secure Horizon Settlements is the gold standard go-to lump sum company you can depend on.
For structured settlement payees and lottery annuitants, there are options to manage debt other than borrowing against themselves and this can improve an individual's financial situation in the future.
For more information and exact qualifications for the program, contact 1-855-747-3278, email at promotions(at)shsfunding(dot)com, or go online to http://securehorizonsettlements.com/.