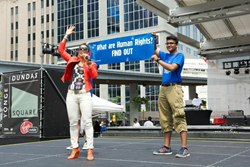 Los Angeles, CA (PRWEB) August 15, 2014
Some 30,000 people filled Yonge-Dundas Square in the heart of Toronto July 15 for the celebration of the 8th annual YD|TO—Youth Day Toronto 2014.
The festival provides the opportunity for youth to showcase their work—from music and dance to art, photography, fashions and film—and to share their ideas through information booths and live presentations to tens of thousands of youth at a time.
For the 8th year running, Youth for Human Rights (YHR) Toronto participated in the festival with a presentation from the stage and a human rights information booth. Visitors to the booth were invited to spin a "human rights wheel of fortune" divided into 30 sections—one for each of the articles of the United Nations Universal Declaration of Human Rights (UDHR). The wheel would stop spinning and a volunteer would play the video that corresponds to the UDHR article designated by that number.
Although the United Nations adopted the UDHR 65 years ago, visitors to the booth were often surprised to learn what it covered. "They had no idea they possessed these rights," said one of the volunteers.
Throughout the afternoon, volunteers in their dark blue Youth for Human Rights T-shirts moved through the crowd, collecting signatures on human rights petitions calling on the government to mandate human rights education in schools and to enforce the provisions of the UN Universal Declaration of Human Rights.
Scientologists on five continents engage in collaborative efforts with government agencies and nongovernmental organizations to bring about broad-scale awareness and implementation of the 1948 United Nations Universal Declaration of Human Rights, the world's premier human rights document.
The Church of Scientology has published a new brochure, Voice for Humanity—Real Help, Real Results, to meet requests for more information about the humanitarian programs it supports.
Based on decades of experience, these programs effectively curb drug abuse, instill tolerance, raise awareness of human rights and uplift morality across whole populations. They are founded on the proposition that education is the cornerstone of change. They acknowledge that only when truly informed can individuals make lasting and transformative decisions to live drug-free, ethical, respectful lives in harmony with their loved ones and neighbors.
To learn more, visit http://www.Scientology.org/how-we-help/voice-for-humanity.
Scientology Founder L. Ron Hubbard wrote, "Human rights must be made a fact, not an idealistic dream," and the Scientology religion is based on the principles of human rights. The Code of a Scientologist calls on all members of the religion to dedicate themselves "to support true humanitarian endeavors in the fields of human rights."