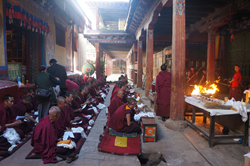 Tibet (PRWEB) August 21, 2014
Tibet has long been a desired destination for travelers looking to explore the mysterious mountaintop kingdom. Prayers flags whip in the wind against the snowcapped peaks of the Himalayas and the low rumble of chanting monks fill the otherwise silent temples. Referred to as "The roof of the world', access to Tibet is challenging due to high elevation and strict entrance requirements. Navigating the foreign land can prove to be daunting for even the most experienced of travelers.
Ventours International, a Destination Management Company specializing in providing highly personalized travel experiences, has recently expanded their journeys to include Tibet. Whether seeking a spiritual pilgrimage or an adventurous trek, Ventours partners with carefully chosen Tibetan associates to protect and preserve the cultural and historical heritage of the region. Designing exclusive journeys since 1986, Ventours is dedicated to delivering truly extraordinary experiences without compromising authenticity. Ventours can also combine travel to Tibet with Bhutan, Mustang or Nepal for a once in a lifetime journey.
About Rebecca Recommends:
Rebecca Recommends is a quality, service-driven company offering sales and marketing representation to independently owned and award winning luxury hotels, country manor hotels, historic residences, tour and destination management companies worldwide. Rebecca Recommends is highly regarded in the North American luxury travel market and has superb and longstanding relationships with the US leisure travel trade.