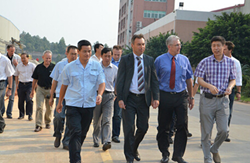 (PRWEB) August 16, 2014
Recently, 15 experts from FAW-Volkswagen have visited Guangdong Foday Automobile Co.,Ltd. and communicated with its high-level leaders. They held a meeting in the conference room on the third floor of the FODAY NO.1 building. A lot of important figures from FODAY AUTO attended the meeting: Ye Qing (chairman of the board and general manager, Wang Dianwu (vice chairman of the board of directors and deputy general manager), Yang Liming (director deputy general manager) and other related department leaders. They mainly discussed bilateral cooperation like technical exchanges and stamping business.
At the meeting, Yang Liming introduced FODAY AUTO's history, management and corporate culture to the FAW-Volkswagen experts. He presented the company's honours in the past years, the achievement of stamping business in recent years and the pressing business development direction in the future Besides, he laid emphasis on the new plant construction, equipment planning and Project FC518 progress.
Accompanied by FODAY AUTO's high-level leaders, the FAW-Volkswagen experts visited the second phase of the project (FC518 project) of FODAY AUTO, including the stamping, welding, painting and mould workshops. Also, they conducted on-site inspection and investigation of the process management, production equipment and control management, quality control management and so forth. The experts are satisfied with almost all things of Foday Automobile Co.,Ltd.
Guangdong FODAY Automobile Co.,LTD
http://www.fodayauto.com
FODAY Auto Wechat no: fodayauto
Email: fodayglobal(at)163(dot)com