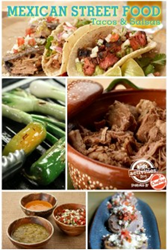 Homemade tortillas are easy to make.
Dallas, Texas (PRWEB) August 18, 2014
Mexican street food is fun, delicious, and healthy. Mexican street food recipes and tips to help babies sleep have been released on Kids Activities Blog. Prepare fun food together with the kids this week.
Kids like finger food. Making amazing Mexican finger food is easy to do with the simple tips from seasoned Moms. These recipes are great for kids parties and best of all they are fast and simple to prepare.
Begin by choosing the kids favorite grilling meat. Then season and grill the meat to the kid's liking. Cut the meat and serve it with a variety of salsa recipes published on Kids Activities Blog.
Let the kids help to make homemade tortillas. Making tortillas from masa dough is easy to do and they taste so much better than store bought tortillas. Simply follow the steps to make a perfect shell for the grilled meat.
Assemble the tacos with cheeses, sauces, vegetables, and herb choices according to the recipe listed on Kids Activities Blog. Let the family enjoy the delicious homemade tacos.
Tips on how to help babies settle down for naps have also been released on Kids Activities Blog. Moms have a wide variety of tips to finally get the long night rest. Some tips include establishing a routine, creating a simple bedtime routine and sticking to it. The routine may help the baby to settle down.
A bedside fan may help the baby sleep, too. The constant sound of the fan may soothe the baby. Swaddle blankets may make newborn babies feel extra comfortable.
Other ideas include rocking the baby to sleep on an exercise ball in the evening. Simply asking a pediatrician for advice could make a difference, too. If Mom needs urgently sleep, let dad sleep with the baby for one evening.
Another great tip is to let the baby settle himself or herself by allowing crying time during the night. The list of great tips is endless.
For detailed instructions and to get additional fun ideas, check out Kids Activities Blog this week. Come get inspired to make great food and help babies sleep through the night.
About Kids Activities Blog
Kids Activities Blog is a website created by two moms (who collectively have 9 children), Holly Homer and Rachel Miller. Their new book was published this spring by Page Street, 101 Kids Activities That Are the Bestest, Funnest Ever! Kids Activities Blog is an interactive website that publishes fun things to do with kids twice a day. It is an amazing resource for moms, dads, grandparents, caregivers and teachers to find kid-friendly activities that create memories and sneak learning into the fun.