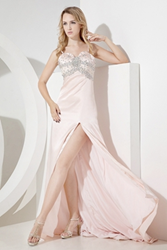 (PRWEB) August 16, 2014
Fancyflyingfox.com is a distinguished online supplier of wedding dresses and women's special occasion gowns; the firm's products are popular among worldwide clients for their unique designs and reasonable prices. Recently, it has announced its new range of sexy evening dresses online. From today on, all these new items are offered with huge discounts, from 25 to 65 percent off.
As a matter of fact, Fancyflyingfox.com is one of the pioneers in the garment field. It is especially famous for its sexy evening dresses and A-line wedding outfits. What's more, all its beautiful products are available at affordable rates. Now, the company is providing huge price cuts for most of its items. Customers throughout the world, especially those who want to be charming among the crowd, can visit its website.
According to the company's senior spokesman, the main aim of the current special offer is to show appreciation to all their fans. "We are happy to release the new evening outfits for the global clients. I hope you like these graceful products. Please note that the promotion will last until August 27," he says.
Additionally, Fancyflyingfox.com's major officials promise to offer the most fashionable items for old and new customers. With rich experience in making special occasion gowns, the company has a good knowledge of fashion trends and consumer needs.
About Fancyflyingfox.com
Fancyflyingfox.com is the leading online retailer for wedding gowns, special event dresses, wedding party dresses, and accessories. Ladies will find a massive range of high-quality wedding dresses, evening/prom gowns, flower girl dresses and more. Fancyflyingfox.com provides hundreds of dedicated items for global buyers. Now, it is offering thousands of cheap items.
For more details about the company and its dresses, readers can visit http://www.fancyflyingfox.com/sexy-evening-dresses-c73/.