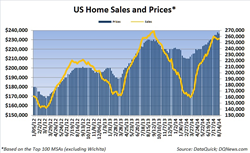 lower rates may entice prospective home buyers to pply for a mortgage
(PRWEB) August 15, 2014
The week ended a bid disappointing for housing market participants like Peoples Home Equity. While mortgage rates fell and home sales rose week-over-week, median home sales prices fell along with mortgage applications.
As shown on the "Daily Mortgage Rates" page on MortgageNewsDaily.com today, 30 year fixed rates closed at 4.09% which is much lower than 4.21% where rates were at two weeks ago on August 1st. Declines in rates usually lead to more mortgage applications but they are not reflective of a fast growing economy. Lenders typically appreciate high rates due to higher interest payments received, however Peoples Home Equity knows that the sweet spot between rates and demand for home loans are currently at a lower mortgage rate. When rates are close to, or below 4% on 30-year loans American get excited. The lender thinks this week was a great time to lock in a loan rate.
Perhaps reflective of last week's decline in rates was the fact that weekly home sales increased by 0.04% to 256,242, as shown in DQnews.com's "National Home Sales Snapshot". While the percentage increase may seem insignificant the change between year-over-year home sales this week vs last is significant. Last week, weekly home sales are -2.3% below that of last year, however this weekly home sales are just -0.7% below that of last year. Peoples Home Equity has expressed faith in many releases that weekly home sales for 2014 may surpass the peak of 2013. Being just -0.7% below that of last year, September may be the telling month whether Americans show a surge of home buying.
The disappointing news for the week was that weekly median home sale prices fell -0.4% after a 1.27% rise the week prior. Median sale prices are now 3.2% higher than 2013 while last week they were 3.9% higher. Another disappointing housing data point was that weekly mortgage applications fell -2.7% after a prior week gain of 1.6%. As shown on TradingEconomics.com on August 13th, mortgage applications was forecasted to only fall -0.14% for the week ending on 8/8. Peoples Home Equity was hoping for a surprise rise to show the first consecutive weekly rise in months, but no luck.
One could say this was a win for buyers, a mixed week for lenders, and a loss for sellers. However, lenders like Peoples Home Equity are happy that home rises are back on the rise after a 3 week slump. The lender things lower rates may entice prospective home buyers to pply for a mortgage. Thus, lower rates may lead to both more applications and even higher sales. If interested in a home loan contact a Peoples Home Equity loan officer today at: 262-563-4026