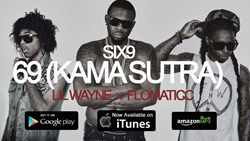 Six9 credits his dream team for musical success!
Atlanta (PRWEB) August 20, 2014
A lot has been said about South Carolina's hottest new rising star Six9, but did you know he contributes a lot of his successful music to his dream team he personally assembled?
So who's part of Six9's Dream Team?
Six9 credits the majority of his Audio Engineering works to Popular Atlanta Audio Engineer Seth Firkins. Firkins is credited to over 2.5 million records sold worldwide and was part of the Grammy nominated team which produced the Jay-Z album American Gangster which is certified platinum in the United States by the RIAA. Firkins is also credited with engineering and mixing the Rihanna track "Loveeeeeee Song," featuring Atlanta rap artist Future, on the album Unapologetic. The album was released November 19, 2012. Firkins continues his work with Six9.
Six9 credits his music production team for his mixtapes and radio singles.
So, who are these producers that make up Six9's Music Production Team?
Six9 credits Flomaticc real name King Troy Malone Jr for the following musical compositions; "Black" by Six9 Featuring 2Chainz, "69 Kama Sutra" by Six9 Featuring Lil Wayne and Flomaticc, "Columbia" by Six9 Featuring Shawty Lo,"Bet You Don't" by Six9, "Vacation" by Six9, "Nightmares from the bottom" by Six9, "Inside Her" by Six9 Featuring Flomaticc, and many others.
Flomaticc was requested to produce an intro song by members of GOLD TEAM, which is owned by MMA fighter Jorge Luis Patino. He accepted the request and produced a song titled "Fight for your life" which they would play at live fights. Flomaticc has been seen partying with popular names like; Slim thug, Mike jones, Trae the truth, Shawty lo, Six9, lil Jon, Bun b, Mims, Shwayze, Terra Jole, Tonya Banks and Jojo. In his free time Flomaticc studies Metaphysics; Kundalini, Tantra, The Chakra System, Astrology and Tarot. Flomaticc also takes private classes for film & game design.
Six9 credits Metro boomin, Real name Leland Wayne. Metro is best known for producing instrumentals for rappers such as Future, Ludacris, Gucci Mane, Young Thug, and Wiz Khalifa, among others. Metro produced the song "Boomerang" by Six9 that reach 3 million views on popular hiphop website Worldstarhiphop.com.
Another heavy hitter that has blessed projects with his expertise is none other than Shawty Redd. Shawty Redd real name Demetrius Stewart is known for working with popular recording artist Snoop Dog, Young Jeeezy, Gucci Mane, Lil jon, Rick Ross and many more. Shawty Redd produced the songs "My 22" by Six9, "S.C" by Six9, and many others.
Six9 is available in over 100 stores worldwide such as; Itunes, Amazon, Googleplay, IHeartRadio, and many more. It's safe to say fans of hip hop music have added Six9 to their favorite playlist. Look forward to hearing more news about the unsigned South Carolina rapper.