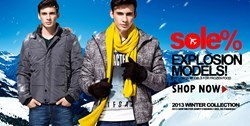 (PRWEB) August 16, 2014
Recently, Skmen.com, one of the most loved online garment suppliers, has unveiled its new designs of business casual dresses. To top it all, the company has launched a promotion for these beautiful casual outfits. They are now offered with great discounts, up to 32% off.
The company's development manager states, "We are quite excited to announce the new collection of business casual dresses. Needless to say, all these items are excellent. They are available almost in varied colours and sizes. The global customers can order fashionable and cheap business casual dresses in our online store now. All people can access a discounted rate. Please note that the promotion will last until August 26."
According to the development manager, what Skmen.com accepts and uses are only high quality materials. Thus, the company has received plenty of positive comments from worldwide consumers. He has confidence in the new business casual outfit collection.
The company's other popular items include spring dresses, mini party dresses and long sweater outfits. It is making every effort to prove that high quality clothes do not always have to be expensive. All its products will be delivered as soon as possible. It aims to supply the best clothes for worldwide new and old clients.
About Skmen.com
Skmen.com, a reliable company founded in 2009, is one of the leading suppliers of men's and women's high quality clothes. It has more than 5000 customers from every part of the world; it hopes to help worldwide stylish ladies and gentlemen. Now, it is selling thousands of fashionable items online. For more detailed information about the company and its wonderful items, readers can visit http://www.skmen.com/product-casual-dresses-003004004.aspx.