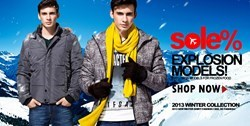 (PRWEB) August 17, 2014
Skmen.com, the famous online supplier of men's and women's clothes, has unveiled its new collection of sweater dresses for juniors. Moreover, all the new sweater outfits are available at discounted rates at the moment, from 15 to 25 percent off. These high quality products are specially made for those who are in need of cost-effective items.
The company's sweater dresses are very popular in the market. In addition to the huge discounts, Skmen.com also provides low shipping fees for clients from all over the world. Those who have specific needs can talk to its online representatives.
Skmen.com is popular in the global market for providing trendy items at reasonable prices. What's more, its online store has become one of the most famous shopping platforms. Its brand new sweater outfits are available in many classy colors, including charming purple elegant burgundy, striking red and gentle green. All of them are finely made from comfortable to wear materials.
In addition, the company puts customer service in a very important place. Owing to its quality clothes, friendly workers, fast delivery and affordable prices, Skmen.com has become one of the most popular online suppliers. Now, all its designers are trying best to create more fashionable products for the international consumers.
About Skmen.com
Skmen.com, a reliable company founded in 2009, is one of the leading suppliers of men's and women's high quality clothes. It has more than 5000 customers from every part of the world; it hopes to help worldwide stylish ladies and gentlemen. Now, it is selling thousands of fashionable items online. For more detailed information about the company and its wonderful items, readers can visit http://www.skmen.com/product-sweater-dresses-003004008.aspx.