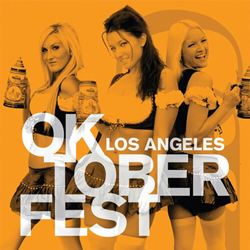 A celebration of Life!
Los Angeles, CA (PRWEB) August 18, 2014
Put on your Lederhosen and get your stein ready for the LA Oktoberfest, traditional Foods, Beers, and the hottest buxom beer maidens serving Bavarian brews; lively tunes and leading sing-along's of old time drinking songs. Our event is made possible by the generous support of angelenos and all the money benefits Vista Del Mar
Proceeds from the event will be donated to a Vista Del Mar Child and Family services, whose mission is to provide comprehensive, family-centered social, educational and behavioral health services that encourage children, adolescents and their families to lead self-reliant, stable and productive lives.
Los Angeles Oktoberfest will offer lively sing-alongs of old time drinking songs with Bavarian dancers and a fine assortment of beers.
The opening ceremony is scheduled for 2 PM with city officials welcoming everyone with the traditional Tapping of the Keg. This Bavarian custom will officially tap the first keg of German beer by hammering a wooden mallet with a bronze spout into the keg -- then the fun begins.
Silent Auction will feature some of the sought after items including such as dinners with celebrities to Dodgers and Lakers tickets.
Los Angeles Oktoberfest offer full liter Souvenir stein filled with German beer! Tickets are available in advance through http://www.laoktoberfest.com. Must be at least 21 to attend this event.
Los Angeles Oktoberfest invites you for a fun-filled day of German food, beer and live entertainment, Saturday, October 4 and Sunday October 5. This event will be held at the Lot located at Beverly Hills Country Club 3084 Motor Ave. Los Angeles, Ca 90064.
For more information on the Los Angeles Oktoberfest 2014, call 213-915-8003.
VALET PARKING $15 dollars - streets are free - We also provide UBER free rides (click here)
Beverly Hills Country Club 3084 Motor Ave. Los Angeles, CA, 90064
For more than a century, Vista Del Mar has been here to help children and families in need. Since our founding as an orphanage in 1908, we have continually evolved to serve the changing needs of our community by offering a range of exceptional program in education, mental health, autism, adoption, residential care, prevention and early intervention that are nurturing and accessible to over 6,000 children and families annually.