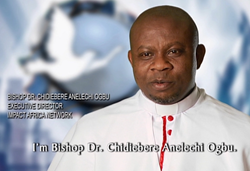 It was Scientology that opened doors for me or for my organization to be having human rights materials
Los Angeles, CA (PRWEB) August 16, 2014
In honor of World Humanitarian Day, the Church of Scientology published a video August 16, featuring Bishop Dr. Chidiebere Anelechi Ogbu of Gauteng, South Africa, and his work to spearhead an entire human rights movement in Africa.
Dr. Ogbu is Presiding Bishop of Desperate Ministries International and Executive President of Impact Africa Network, an association of gospel ministers of African descent dedicated to upholding Christian values and improving the lot of African communities. The Bishop sees human rights education as essential.
"Most people do not even know their rights, why they are being violated," he says. "The laws have been enacted, but most of these laws have not been applied or been implemented."
To raise awareness of the United Nations Universal Declaration of Human Rights, he partnered with the Church of Scientology and United for Human Rights, the human rights initiative the Church supports. United for Human Rights, and its program for young people, Youth for Human Rights, provide human rights educational resources in 17 languages.
"It was Scientology that opened doors for me or for my organization to be having human rights materials," he says. "They have great things that are giving results. I take those on. We are bringing solutions to the world, changing mindsets, going beyond."
Dr. Ogbu believes it is vital that everyone become involved in human rights.
"The days are gone when we just fold our hands and just sit and watch," he says. "Every one of us is involved. Every religion is involved. In schools, in organizations, in homes, they need to know the 30 human rights. When they know it and read it in their heart, in their mind, I tell you, the world will be at peace."
United for Human Rights has provided educational materials in 17 languages to more than 150 nations. Some 21,000 schools have used its human rights materials.
To make United for Human Rights and the other humanitarian and social betterment initiatives it supports even more broadly available, the Church of Scientology has published a new brochure, Voice for Humanity—Real Help, Real Results.
Inspired by the words of L. Ron Hubbard, Founder of the Scientology religion, that "a being is only as valuable as he can serve others," Scientologists wholeheartedly support these programs. Participation and collaboration in these initiatives is invited and welcomed from all who seek to improve conditions for themselves and others.
For more information, visit the Scientology website at http://www.Scientology.org/how-we-help/voice-for-humanity.