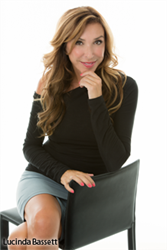 We all need to be talking about treatment for mental illness in the same way we talk about treatment for cancer and heart disease.
Malibu, CA (PRWEB) September 04, 2014
September is National Suicide Prevention Awareness Month. Following the recent suicide of actor Robin Williams, national mental health expert and best-selling author, Lucinda Bassett, says Williams' death must become the start of more honest conversations about mental illnesses and subsequent healthcare treatment in America.
Bassett, who also lost her husband to suicide in 2008 following a two year struggle with manic depression, knows first-hand the shortcomings of the healthcare system as it relates to those suffering from "invisible illnesses".
Bassett believes that for people who are severe, the best option for long-term success would be facilities where an afflicted person can be placed and "forced" to stay in treatment until it is determined by family, a psychiatrist, a physician and therapist that he/she is stable and ready to go back in to life and society. In this monitored environment, he or she would receive intensive therapy, proper titration and monitoring of medications, on-going support and skills for coping with issues of grief, loss, depression, and anxiety.
Yet Bassett says our health care system offers little, if anything, in the way of such medical options, including effective in-patient treatment, and financial support through insurance coverage.
"Most of what is available isn't working for the long haul. Only the wealthy can 'afford' long term residential treatment programs that are managed, professional, and have some potential for ongoing success," explains Bassett. "But the problem still remains that a person can "walk out" or simply refuse to go," she adds.
Bassett believes the Mental Health Parity Act is a step in the right direction, but even that is weak at best, and for many a battle that needs to be fought to receive the proper treatment insurance coverage. But if it "were" available, effective treatment is possible. The National Advisory Mental Health Council's statistics from NIMH states that success rates for treating mental illnesses are high. Treatment success rate for bipolar disorder is 80% and treatment success for major depression is 65%. There is hope if the patient can receive the right level of care.
"We all need to be talking about treatment for mental illness, addiction, and related issues, in the same way we talk about treatment for cancer and heart disease. We need to support families and eliminate the stigma," she warns.
Though the system is apparently broken, if you know someone who is fighting an emotional battle there are things you can personally do to help. "Know the warning signs of suicide. Listen when people who are struggling talk. Encourage them to get help. Convey empathy. Check in on friends and family members who are struggling. Reach out to survivors of suicide and their families. Be kind and nonjudgmental. And, let's keep talking," says Bassett.