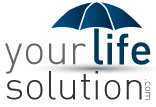 Chicago, IL (PRWEB) August 17, 2014
YourLifeSolution.com, a website which allows consumers to instantly view their own life insurance quotes online, is today publishing an explanation of what is universal life insurance. YourLifeSolution.com believes this information should be published as they believe many consumers conflate whole life insurance and universal life insurance and don't understand the purpose of what is often referred to as "UL". "Universal life insurance comes in different variations. There is a significant factor that affects the structure of the policy, and that is its flexibility. Universal life insurance can be set up as a 'no lapse universal life insurance policy', which is essentially just term insurance that lasts for life, and the other is a flexible premium universal life insurance policy. Flexibility allows for the policy to be modified by the size of contributions made to it, and the no lapse policy is not flexible in most cases, but offers the lowest cost form of permanent life insurance," said Eric Smith, the founder and independent life insurance agent of YourLifeSolution.com.
What is Universal Life Insurance According to YourLifeSolution.com?
According to YourLifeSolution.com, universal life insurance in its typical form, is merely a policy where the cost of the life insurance component starts incredibly low and increases every year at a prescribed pace and if funded properly generates significant equity due to the premiums being more than enough to maintain the actual cost of coverage. "Like all forms of life insurance, universal life insurance isn't for everyone, but it definitely serves an important role in allowing a consumer to modify their policy without questions years later," said Eric Smith.
Consumers seeking objective online information about life insurance are encouraged to visit YourLifeSolution.com, or call 888.374.2764.