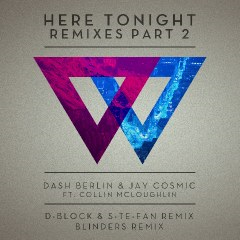 Remixes of Dash Berlin's "Here Tonight" by Blinders and D-Block & S-Te-Fan join previously released remixes by Carita La Nina and Lush & Simon.
New York, NY (PRWEB) August 18, 2014
Short stutters, smooth grooves, glitched-out synths, wild edits and intricate rhythms — Blinders sure did a number on this tune. Taking all the freedom afforded to a remixer, Blinders recreated and re-envisioned Dash Berlin's anthem, "Here Tonight," the first single from his studio album, We Are (Part 1) (Armada Music). Cranking up the BPMs straight to 145, D-Block & S-te-Fan create their own monster variation that will certainly bring Dash Berlin's classic to many new listeners.
Perfect for music festivals, there can be no doubt that these remixes of "Here Tonight" will serve headlining DJs well in every place where bass music dominates the scenery.
Available on Beatport.com: http://www.beatport.com/release/here-tonight-remixes-part-2/1357787
For more information on Dash Berlin, Armin van Buuren, Andrew Rayel, Armada Music, Marquee Nightclub & Dayclub Las Vegas, Marquee New York, InFiction and more, contact EMILY TAN Media Relations at +1(917) 318-3758 or email EmilyEmilyTan(at)aol(dot)com.