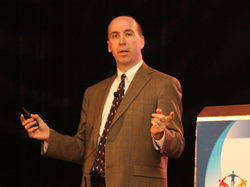 Unlearning our old assumptions, beliefs and habits is more essential than ever if we hope to capture the full bounty of tomorrow's extraordinary future.
Washington, D.C. (PRWEB) August 19, 2014
As the leader in nuclear energy and a significant, growing player in the renewable energies sector, AREVA provides its customers with solutions for low-carbon power generation in North America, and all over the world. The work obviously necessitates being on the cutting edge of technology and in order to embrace what's new futurist Jack Uldrich says energy industries like Areva may need to do a bit of unlearning first.
On Tuesday, August 19th Jack Uldrich will be addressing Areva in Lynchburg, VA. Uldrich will discuss the topic of unlearning with the group. Dubbed the "Chief Executive Officer of Unlearning" Uldrich has extensive background in the subject. His presentation will serve as a diving board for Areva leaders who will be swimming amidst a sea of technological changes in the coming years. The goal of Uldrich's sessions is to deliver cutting-edge ideas, technical information and motivational concepts surrounding the concept of unlearning.
Throughout his presentation Uldrich will cover various aspects of his popular and Bellwether Award-winning new book, "Foresight 2020: A Futurist Explores the Trends Transforming Tomorrow," and draw on his work in the field of change management. Uldrich will also include ideas from his 2011 best-seller "Higher Unlearning: 39 Post Requisite Lessons for Achieving a Successful Future." Uldrich's ultimate goal at Areva is to explain how business leaders must let go—and unlearn—many of their assumptions about their field, their current business models and their customers in order to grasp the full potential in the energy industry in the years ahead.
Additionally, Uldrich will highlight why these trends demand unlearning and discuss why participants must embrace the concept of unlearning in order to achieve future success. Uldrich, will conclude his presentations in Lynchburg by reviewing specific habits, customs, beliefs and ideas that Areva employees and leaders can—and must—unlearn in order to thrive.
An overview of some of Uldrich's ideas can be found in this YouTube clip of his presentation, "Why Future Trends Demand Unlearning," which aired on WFYI in Indianapolis. And a synopsis of some of Uldrich's written work can be found in this article, 10 Surprising Ways Nanotechnology is Climbing into Your Life.
Uldrich has addressed hundreds of business and trade groups from around the world, clients include Lockheed martin, McGladrey Emerging Technology Summits, as well as the Verizon Wireless Connected technology Tour across the U.S., MRDT, the FCCS, the AMA, the Women's Food Forum, PepsiCo, United Healthcare, Boston Scientific, Southern Company, Cisco, IBM, WiPro, Parsons Brinckerhoff, as well as various private financial firms.
Parties interested in learning more about Jack Uldrich, his books, his daily blog or his speaking availability are encouraged to visit his website at: http://www.jumpthecurve.net. Media wishing to know more about the event or interviewing Jack can contact Amy Tomczyk at (651) 343.0660.
Uldrich is a renowned global healthcare futurist, best-selling author; editor of the monthly newsletter, The Exponential Executive, and host of the award-winning website, http://www.schoolofunlearning.com.