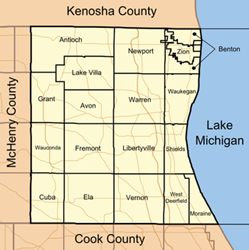 Round Lake which experienced a -4.4% decline in sales, still had the highest sales recorded in Lake County at 284
Chicago, IL (PRWEB) August 16, 2014
Chicago's northwest region, Lake County, remained roughly unchanged in terms of home sales in the in the 2nd quarter, but Peoples Home Equity was impressed by certain areas.
As shown in DQnews.com's latest "Chicago Area Home Sale Activity" report for the 2nd quarter of 2014, home sales volume showed a slight decline of -0.30% for 2nd 2014 vs. 2nd quarter 2013 at 2,880. Median home prices rose by 5.6% to 227,000. Of the 27 zip codes recorded only 12 areas showed year-over-year percentage gains in sales volume average with the other 15 areas showing percentage declines. Island Lake (60042), Deerfield (60015), and Ingleside (60041) respectively saw the worst annual declines of home sales at: -38.9%, -31%, and -25%. Changes in median home prices of these areas however, was a bit mixed. Island Lake actually experienced an impressive 38.1% rise in quarterly year-over-year equity. Deerfield with a sizable 109 home sales for the quarter remained roughly unchanged with a 0.30% increase in price. Ingleside showed a -19% drop in prices, the worst of all zip codes.
Areas of outperformance were close to the lake shore. Highwood (60040) nested between Chicago elite areas of; Lake Forest (60045) and Highland Park (60035) showed a whopping 133% year-over-year rise for the 2nd quarter. Winthrop harbor (60096), an area which houses its own yacht club, experienced a 50% increase in sales, while the nearby North Chicago also experienced a 46.7% rise in sales.
In terms of median home prices, Highwood experienced only a 3.8% rise, while Winthrop Harbor showed a 23.2% rise, and North Chicago prices rose by 13.3%.
Peoples Home Equity reminds readers that one does not need to look at outliner housing data to see areas of strength in a county. Fox Lake (60020) showed a combined rise of 28.3% in sales, and 25.8% in median home prices. Gurnee (60031) with a respectable 16.9% rise in sales, showed a 37.5% rise in median home prices. Even Wauconda (60084), which saw a -12.6% decline in sales, experienced a 49.7% rise in prices. Round Lake (60073) which experienced a -4.4% decline in sales, still had the highest sales recorded in Lake County at 284, not to mention a nice 37.8% rise in home prices!
People Home Equity encourages readers to at least submit paperwork for a pre-approval on a mortgage. Once pre-approved home buyers can filter their search by how much they may borrow.
If interested in a home loan contact a Peoples Home Equity loan officer today at: 262-563-4026