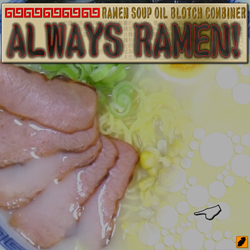 Tokyo, Japan (PRWEB) August 18, 2014
Moaisoft Games has developed a new smartphone and tablet app called Always Ramen specifically for people who just can't get enough ramen.
Many ramen lovers enjoy connecting and separating the blotches of oil that float atop the broth that accompanies the noodles. Now they don't have to worry about cooking ramen or running out of it, because Always Ramen's virtual oil connects and splits as the user wishes.
Watch for the surprise that happens after the blotches of oil has been connected or separated 10,000 times.
-no need to cook ramen to play
-play with blotches of oil anywhere anytime
-three kinds of ramen for more fun
-for people with not enough eating ramen
-for people with usually drink all the soup and cannot play with the oil
Always Ramen is available for download from the following links:
Google Play
https://play.google.com/store/apps/details?id=com.moaigame.ramen
iTunes Store
https://itunes.apple.com/jp/app/always-ramen/id897446188
Amazon AppStore
http://www.amazon.com/gp/mas/dl/android?p=com.moaigame.ramen