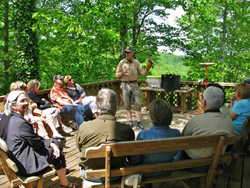 Private Mountain Community in Western North Carolina
Asheville, NC (PRWEB) August 18, 2014
There are many wonderful recreational opportunities attached to a life well lived near the Blue Ridge Parkway, but non so satisfying as nature lovers fans at the protected paradise of Balsam Mountain Preserve. In addition to golf, hiking, horseback riding, fishing, and more, residents enjoy North Carolina lifelong learning in year-around classes, guided hikes and nature walks, and lectures known as Trust Talks. The Balsam Mountain Trust, charged with stewardship of natural and cultural resources on Balsam Mountain Preserve and the Blue Ridge Mountain region, offers a full slate of fun and interactive Talks at the community's onsite Nature Center. Join friends and possibly future neighbors for lectures and presentations all through the end of summer.
Here is the lineup of August Trust Talks:
August 7 – Panthertown Valley – a Top Natural Attraction in Jackson County with Dr. Dan Potillo. Learn about the history of this beautiful natural area on Forest Service land in Nanthala National Forest not far from Balsam Mountain Preserve homes.
August 14 – Ken Bowden presents What the Frack? Come explore the pros and cons of drilling sideways for natural resources. It's sure to be a lively and educational experience.
August 21 – Bling, Bling, Bling Goes the Trolley with David Richmond – enjoy a dazzling evening of esthetics and engineering as stone cutter and lapidarist Richmond demonstrates to art and science of stone cutting and jewelry design.
August 28 – It's a Jungle Out There with Dan and Judy Dourson – Experience the fascinating and bio-diverse jungles of Belize as naturalists Dan and Judy take you with them through the sights and sounds of their life and work at the Belize Foundation for Research and Environmental Education. Don't be surprised if things get wild.
September 4 – The Power of Flower with Kathy Taylor of K.T. Orchard and Apiary – Imagine life without many of your favorite fruits and vegetables. Pollinators are incredibly important to all of us. Join Kathy as she explains how the honeybee affects our lives and diets. She'll also have wonderful bee products for sale.
Active adults, boomers and retirees who chose Balsam Mountain Preserve homes soon understand what a unique community they live in. After years devoted to careers and raising families, it's wonderful to finally be able to devote time to doing and learning for the simple joy of it. At Balsam Mountain Preserve in the mountains of North Carolina, lifelong learning offers a chance to pursue old hobbies or take up new interests. In retirement, we all want to do the things we never had time for before. The famous author, naturalist, and preservationist John Muir said "The clearest way into the Universe is through a forest wilderness." Here, at the 4,400 acre Balsam Mountain Preserve, 3,000 acres are preserved as conservation areas for the use and enjoyment of current residents and those to come for generations, and maintained under the watchful eye of the Trust.
"No other master-planned community in the North Carolina mountains has an organization that contributes so much to the experience of living in this remarkable part of the world."
What a priceless treasure to live in one of the finest private communities in Western North Carolina, in the middle of a nature preserve, with an entrance to the Blue Ridge Parkway just outside your entrance gate! North Carolina lifelong learning, fishing from cool mountain streams, watching the sun rise and set against a backdrop of nature's most wondrous scenery, feeling fresh air and sun during a bike along trails or practice photography techniques using wildlife as subject matter – these are a few of the things that make life here so special.
Beautiful home sites, trusted builders, and convivial neighbors from all corners of the country are other reasons that those checking out private communities in Western North Carolina come to Balsam Mountain Preserve to sample the lifestyle and take in a Trust Talk in person. There will only be 400 Balsam Mountain Preserve homes built, and the preservation areas insure that there will be no further development.
Take a peek at Balsam Mountain Preserve homes
A great way to experience the North Carolina mountain lifestyle before retirement is The Residence Club at Balsam Mountain Preserve. This deeded, fractional ownership program offers eight full weeks a year, with full membership privileges, in a charming Boarding House Cabin. The fully furnished, cozy and upscale cabins are located next to the award winning Boarding House restaurant. Residence Club members have full use of all the great Balsam Mountain Preserve amenities, including an 18-hole Championship Golf Course designed by Arnold Palmer, equestrian center, sports complex, heated outdoor pool, tennis courts, fitness center, Dark Ridge Camp, and miles of hiking and biking trails.
Why not schedule a visit in August and enjoy lifelong learning at a Trust Talk, as well as a tour of life in the mountains of western North Carolina?
Call Balsam Mountain Preserve direct at 866.452.3456 to schedule a tour.
About Real Estate Scorecard:
Real Estate Scorecard writes unbiased real estate reviews providing in-depth information about popular gated communities in Florida, Georgia, North Carolina, South Carolina and Tennessee, all in an effort to help people discover where to retire in the Southeast.
Website: http://realestatescorecard.com