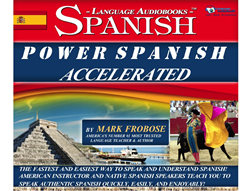 Only $19.00 per language program instead of hundreds of dollars.
Champaign, IL (PRWEB) August 19, 2014
Language Audiobooks Inc. founder and CEO Mark Frobose announced today that his company's new video "Why Language Audiobooks Is Better Than Rosetta Stone" has just been released and published on YouTube.
"Our opinion is that Language Audiobooks programs are superior in many ways to Rosetta Stone for many reasons," he enumerates.
The video makes the following claims:

Affordable: Only $19.00 per digital program instead of hundreds of dollars
Learn Languages Everywhere™. "Language Audiobooks programs are extremely portable," states Frobose. "People can learn a new language on a smartphone, in a car. Even a one-minute waiting period can teach an individual any language over time, and from any location."
Mark Frobose states in the video that Language Audiobooks programs never require guessing at meanings. "We provide language learners with instant English equivalents so they spend their valuable time learning the language instead of guessing at meanings," affirms Mark.
The video states that expert American language instructor Mark Frobose explains everything in English while educated native speakers of the language being learned teach listeners how to really speak their language with the right accent.
According to the video, listeners learn to create and speak original sentences within the first 10 minutes of the program.
The video claims that Language Audiobooks offers the best memory technique in the foreign language learning Industry. Mark cautions that language learners "always need to remember what they are learning when they learn it."
Founder Mark Frobose emphasizes that his company's bestselling Power Spanish, Power French, Power Italian, Power Portuguese, Power Mandarin Chinese are all on sale now at Audible.com and at LanguageAudiobooks.com for only $19.00 or less.
The video also encourages language learners to try Spanish for Travel and Eating, French for Travel and Eating, and Power Italian Accelerated.
The video also mentions Spanish for Love and Dating and Clean French Slang as being very unique and innovative programs language learners are likely to enjoy and learn from.
Learn Languages Everywhere™ is the motto of LanguageAudiobooks.com. The Language Audiobooks(R) method is an extremely effective and versatile audio language learning system that can be used anywhere for any duration of time to teach people to speak any language while in the car, at home or on a smartphone! Designed specifically for use while on the go, this challenging, versatile and fast-paced method introduces, reviews and challenges language learners to interact successfully in spoken languages from any location so they can learn to speak any language of your dreams during otherwise wasted down time.
The company's founder and CEO Mark Frobose is an expert language teacher who created the entire language audio line for Macmillan Audio of New York, including the bestselling "Behind the Wheel French" program. For over a quarter of a century, Mark has created and produced more successful audio language programs than any other living individual in the world today. His bestselling Power Spanish Accelerated is rapidly becoming the nation's favorite all-time Spanish program.