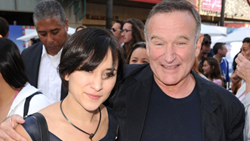 NoBullying felt the need to remind everyone of the importance of paying it forward with kindness instead of having mere enjoyment at someone's suffering.
London, UK (PRWEB) August 17, 2014
When Zelda Williams lost her father, brilliant comedian and actor, Robin Williams to apparent suicide, she took to Twitter and Instagram to mourn him only to be swept by messages of harassment and cyber bullying. NoBullying reports how Zelda Williams quit Twitter and consequently got Twitter to review its harassment policies.
According to Forbes, in an article published on August 14th, the story started with Zelda Williams receiving hateful messages on her Twitter and Instagram accounts about her late father, some tweeted about how her accounts didn't contain much pictures of him, others tweeted mean photo-shopped graphic photos of Robin Williams' dead body, all with her Twitter account handle mentioned, Zelda Williams was being bullied on Twitter.
The Forbes Article, published on August 14th, revealed that when Zelda announced her decision to take a long "maybe forever" hiatus from her social media accounts, Twitter went on suspending two Twitter accounts and Del Harvey, Twitter's vice president of trust and safety said in a statement: "We will not tolerate abuse of this nature on Twitter, We have suspended a number of accounts related to this issue for violating our rules and we are in the process of evaluating how we can further improve our policies to better handle tragic situations like this one. This includes expanding our policies regarding self-harm and private information, and improving support for family members of deceased users."
According to Thursday's article, on her Instagram account, Zelda Williams said, "I will be leaving this account for a [sic] but while I heal and decide if I'll be deleting it or not. In this difficult time, please try to be respectful of the accounts of myself, my family and my friends." She added, "Mining our accounts for photos of dad, or judging me on the number of them is cruel and unnecessary."
Despite the tragic circumstances of losing one great actor to depression and suspected suicide, Zelda Williams' ordeal finally pushed Twitter to work on "improving their policies" regarding cyber bullying, harassment and trolling.
However, this should also serve as a reminder to everyone that this isn't the first time celebrities were harassed, trolled and cyber bullied. Some have resorted to staying off social media while other celebrities against bullying went on campaigns to promote better internet decorum in a call for kindness online.
Twitter has been active in the past few years in improving its anti-harassment and bullying policies and has included a "Report Tweet" button to make it easier and more effective for users to report inappropriate behavior on the social network.
As an active member against the horrific incidents of Bullying and Cyber Bullying, NoBullying feels the urge to remind everyone of what it feels like to lose a parent, let alone a loving parent and not forgetting the fact that Zelda Williams has to go through her grief in a very public arena, she surely has no need for harassment, cyber bullying and insensitive, unkind people trolling her every word.
Ciaran Connolly, Co-Founder of NoBullying.com, said, "In this horrific unnecessary case of unkindness, NoBullying felt the need to remind everyone of the importance of paying it forward with kindness instead of having mere enjoyment at someone's suffering."
He added that parents and teachers should make a point to educate the younger generations about the sad outcome of bullying online and offline. According to Connolly, it is quite imperative to press for more firm laws condemning all acts of bullying and harassment.
NoBullying.com features many pages dedicated to parents, teens, teachers, health professionals as well as posts related to cyber safety and the latest news about law making concerning curbing bullying worldwide as well as inspirational bullying poems and famous bullying quotes.
The website regularly updates its bullying statistics and cyber bullying statistics as it is essential to understand how widespread the bullying epidemic is. It also regularly runs cyber bullying surveys and questionnaires to get recent updated statistics on everything related to cyber bullying.
He also added that anyone suffering from bullying in any form or way can always find advice and help on the NoBullying website – but if anyone is suffering from severe bullying or cyber bullying, the best thing is to talk to someone locally – a parent, teacher or local organization that has been set up to help with specialized councilors to deal with this topic.