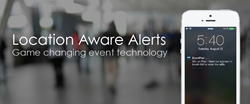 Delegates can now receive notifications that are highly relevant and based on their indoor location at the conference. It's the next wave of event technology in the meetings industry.
Santa Rosa, California (PRWEB) August 21, 2014
ATIV Software today announced the availability of iBeacon™ and GPS location-based alerts in its award-winning conference app EventPilot to help increase interactivity and engagement. The meeting app allows event planners to easily target their communication in relation to the position of the attendee in the venue area. Notifications are triggered by the devices' GPS location or proximity to beacons within a specific time range. Even if the event app is in the background, users are alerted about important messages from the meeting organizers. Learn more at http://ativsoftware.com.
"We are excited to providing this cutting-edge technology in our conference apps to enhance the attendee experience at congresses and meetings in completely new ways," said Eric Converse, CTO and Co-Founder of ATIV Software. "Delegates can now receive notifications that are highly relevant and based on their indoor location at the conference. It's the next wave of event technology in the meetings industry."
To effectively communicate, meeting professionals can include a variety of location aware notifications. Combined with a start and stop time, attendees receive just-in-time and just-in-place alerts. The location-based notifications could be used to:

Inform participants about attendee services available in their proximity;
Collect points as part of event app gamification like scavenger hunts;
Remind attendees to track credit units like CME;
Alert users to visit key sponsors that are nearby;
Or invite attendees to complete the conference survey upon leaving town.
iBeacons are ideal for triggering notifications indoors where Wi-Fi access may not be available and GPS too inaccurate. iBeacons are low energy transmitters that can be detected by the conference app when attendees get close with their device. The beacons are positioned around the conference venue to display pertinent information relevant to that location. GPS-based alerts are ideal for large area range notifications where indoor accuracy is not critical.
"The EventPilot conference app is a leading example of how Bluetooth Smart™ (BLE) proximity beacon using iBeacon™ technology can be used to enhance attendee engagement at events and meetings," said David Helms, Chief Product Officer at Radius Networks Inc., the leading provider of mobile proximity services. "RadBeacon proximity beacons and EventPilot together make it easy for meeting organizers to create informative and engaging experiences for their attendees."
Features
iBeacon Proximity-aware Notifications
The native EventPilot conference app uses iBeacon technology to display notifications triggered by Beacon devices. Combined with a start/end time allows meeting planners to control when which message is shown where.
GPS-based Notifications
Notifications suited for large conference venues to guide attendees or to send messages when attendees arrive/leave the conference area.
Targeted In-app Actions
All notifications in EventPilot include the option to send users to either a specific view within the conference app like session or sponsor details, or a website via a URL.
Learn more at http://ativsoftware.com/eventpilot-conference-app-features/location-ibeacon-gps-alerts/.
Availability
Location-based alerts are available immediately in any new implementations for native event apps for iPhone, iPad, Android smartphones or tablets, and Kindle Fire. iBeacon support is currently available only for the iOS version of the meeting app.
About ATIV Software
ATIV Software is the leading event app provider for large medical and scientific meetings and publishes the award-winning mobile conference app EventPilot as well as EventPilot Journal app for custom medical and scientific peer reviewed publications. Available as native meeting app for iOS and Android. Web-app included for BlackBerry, Windows Phone 7.
# # #