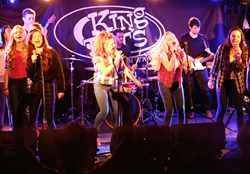 We've received great feedback from everyone who's heard the single.
Glasgow, Scotland (PRWEB UK) 21 August 2014
Members of a Glasgow-based theatre school joined forces with musicians from pop group Texas and children from Barnardo's to release a single to boost the Commonwealth Games Legacy Fund.
They performed the single – Change the World – publicly for the first time when they appeared as part of the Games' official celebrations on Glasgow Green during the recent games. The single has just been made available for download on iTunes, on Amazon and via Spotify.
The song was written by Ross Hamilton and Michael Bannister who play regularly in Scots super group Texas.
They helped a total of 45 children from the UK Theatre School and a Barnardo's project to sing and produce the new single, which received funding from Celebrate, set up as part of the Big Lottery Fund aimed at helping groups throughout Scotland to mark the Commonwealth Games in a creative and lasting way.
School bosses received a grant from the Celebrate to produce a professional video to promote the song. Almost 60 children from the theatre school took part in the video filming at the famous King Tut's music venue in the city after its management waived their fees for using the premises.
In the video the lead vocals are performed by a group of 16 year old girls from the school – Harley Walsh of Cambuslang, Rebeka O'Rorke from Wishaw, Amy Allan from Largs and Ciara Ewing from Kilmacolm.
The song project was spearheaded by UK Theatre School principal Lizanne Lambie Thomson who said: "We came up with the idea as we wanted to do something to mark the Commonwealth Games being here in the city.
"We're all about the performing arts so we felt music and singing gave us the chance to entertain and bring smiles to those who hear the song.
"The song's all about working together to bring positive change no matter what you do in life.
"As the project developed we involved a group of youngsters from Barnardo's in Inverclyde who had the opportunity to not only experience a song being recorded but also participated in the chorus. We're delighted with the end result and proud of all the children who took part.
"We've received great feedback from everyone who's heard the single and we're just delighted it's now out there available for people to download and, in turn, help the Commonwealth Legacy Fund."
The song's video can be viewed at http://www.youtube.com/watch?v=AvsVIO9fg1E
Profits from the sale of the single will go to the Commonwealth Legacy Fund which is supporting UNICEF.
The UK Theatre School – based in West Regent Street, Glasgow - is a performing arts academy, run by a charitable trust, with almost 700 pupils aged 4-18 attending weekly classes in singing, dancing and acting.