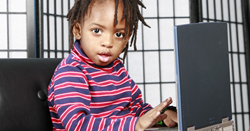 Internet Stalking is just pure evil. One person sends harassing texts and emails to intimidate and strike fear in another person's heart miles away.
London, UK (PRWEB) August 19, 2014
The Internet is filled with dangers. From phishing, flaming, scamming to cyber bullying, being online needs more than just a good laptop. It is time for concerned parents and educators to learn and spread awareness about the dangers of Internet Stalking with the help of NoBullying's guide, released today.
Internet stalking is often referred to as cyberstalking. Cyberstalking is a popular form of online harassment. Internet stalkers use various forms of electronic devices to locate, harass and torment their victims.
The guide lists the fact that cyberstalkers are smart, daring and creative but have serious control issues. They find inventive ways to reach their victims, and raise havoc in their lives. Laws are designed to protect individuals who fall prey to internet stalking.
Law enforcement agencies have improved on the different techniques they use to catch internet stalkers. They monitor various websites, chatrooms, and social media networks. These are just a few places where internet stalking can and do begin.
This form of stalking revolves around the internet bully or stalker using the internet to send emails, pictures and other threatening communications. The content sent to the victims is usually malicious, and threatening. The language is often offensive, with threats of doing bodily harm.
The guide points out that usually victims have no idea who is cyberstalking them, and what their intentions are. The victims are constantly looking over their shoulders and waiting for something to happen. This form of stalking keeps the victims in constant suspense. Cyberstalkers seem to know a lot aboutf their victims.
The guide also lists the noticeable differences between Internet Stalking and Cyber Harassment. Cyber harassment is a mean and vicious act of sending annoying, and pesky email transmissions and instant messages.
Other forms of cyber harassment include posting slanderous, rude, obscene, offensive and negative remarks on websites, social media sites, blogs and chatrooms.
The guides points out tips on how to handle internet stalking situations and how to report them to the proper authorities. It is also worth nothing that most internet stalking cases stem from a jilted lover, who is bitter and angry over an ended relationship. The internet stalker chooses the internet as the ultimate form of punishment. The plan is to inflict fear in his or her victim, and to include some form of torment.
Ciaran Connolly, Co-Founder of NoBullying.com, said, "Internet Stalking is just pure evil. One person sends harassing texts and emails to intimidate and strike fear in another person's heart miles away. Laws need to be made stricter when it comes to internet stalking and cyber harassment."
He added that parents and teachers should make a point to educate the younger generations about the sad outcome of bullying online and offline. According to Mulligan, it is quite imperative to press for more firm laws condemning all acts of bullying and harassment.
NoBullying.com features many pages dedicated to parents, teens, teachers, health professionals as well as posts related to cyber safety and the latest news about law making concerning curbing Bullying worldwide as well as inspirational Bullying Poems and famous Bullying Quotes.
The website regularly updates its bullying statistics and cyber bullying statistics as it is essential to understand how widespread the bullying epidemic is. It also regularly runs cyber bullying surveys and questionnaires to get recent updated statistics on everything related to cyberbullying.
He also added that anyone suffering from bullying in any form or way can always find advice and help on the NoBullying website – but if anyone is suffering from severe bullying or cyber bullying, the best thing is to talk to someone locally – a parent, teacher or local organization that has been set up to help with specialized counselors to deal with this topic.