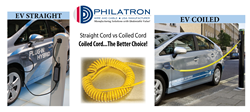 Santa Fe Springs, CA (PRWEB) August 19, 2014
California-based wire and cable manufacturer Philatron Wire and Cable joins the roster of exhibitors at the Electric and Hybrid Vehicle Technology Expo. Philatron Wire and Cable is the largest manufacturer of electrical wire and cable in Southern California. At the expo, Philatron Wire and Cable will showcase their new cable management system for electric vehicle charging stations.
Highlighting the advances in the electric vehicle marketplace, Philatron Wire and Cable will proudly display FLEXY®. This premium cable employs premium material such as, finely stranded copper and an advanced jacket that greatly reduces friction. The highly visible color choices available allow for high visibility preventing trip hazards, damage, and misplacement, perfect for electric vehicle charging stations.
Philatron has been selected by Tesla Motors, the electric car company, to manufacture the Supercharger cables for the automaker's Supercharger stations in both North America and Europe. This milestone "marks a growing opportunity for Philatron Wire and Cable as we build upon our commitment to provide the best products and services in the OEM market," said Phil Ramos, president of Philatron. He further commented that "…this opportunity [with Tesla] allows us to expand product offering and better assist those serving the industry."
Philatron Wire and Cable has a dedicated team of R & D engineers and New Product Development Specialist who work together in synergistic alliance offering a full range of custom electrical wire and cable products.
Philatron has increased efficiency for the Electric Vehicle user, offering a coiled cord for electrical power supply. This electrical cable management system offers the electric vehicle market the latest in technology and innovation. FLEXY® is a revolutionary new slinky design electrical cable that extends over 20 times its original length. FLEXY® provides an easy-to-pull coil that retracts to its original size, making pull and retraction more consistent. This patented design eliminates hazards by reducing the pull force and eliminating cable drag due to its superb retractile memory. There's no need to wind up the cable; the cable simply retracts to the original shape – keeping this cable off the ground providing extended cable life without trip hazards!
Visit Philatron's booth at the Electric & Hybrid Vehicle Technology Expo, on September 16-18, 2014 in Novi, Michigan.
MADE IN AMERICA
Manufacturing Solutions with Undeniable Value!
Visit us at: http://www.philatron.com.
For additional information contact:
Tammy Ashton
Assistant Marketing and Sales Manager
(800) 967.9147
tashton(at)philatron(dot)com