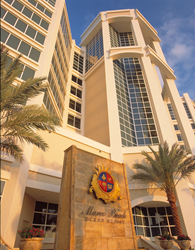 Marco Island, FL (PRWEB) August 18, 2014
The Marco Beach Ocean Resort announced that the resort has been featured in a U.S. News & World Report Travel article on "7 Hotel Traditions that Add Spunk to your Stay."
The all-suite, beachfront resort was specifically mentioned for its "Turtle Turndown." Each summer between May and August, Loggerhead sea turtles (named for their large heads) find their way onto the beaches of Marco Island, Florida, to begin nesting. Sixty days after the turtles lay eggs on the beach, hatchlings — or baby turtles about 2 inches in length — are born. To celebrate the annual nesting period, the Marco Beach Ocean Resort caters to its family visitors with the Turtle Turndown tradition. Each turndown service features a story of the turtles' annual nesting event, tips to keep the creatures safe and a turtle-themed keepsake for the kids.
"Our Turtle Turndown service is extremely popular among guests traveling to the area for the first time and who want to learn more about these unique sea creatures," said Joseph Fisher, General Manager of the Marco Beach Ocean Resort. "This service actually started many years ago and has blossomed into a larger series of programs and fun-filled activities to educate all our guests about the local Southwest Florida environment."
Overlooking the Gulf of Mexico, the all-suite Marco Beach Ocean Resort brings stellar service, lodging and dining to Marco Island, one of the fabled Ten Thousand Islands located between Naples and the Florida Everglades along Southwest Florida's beautiful Gulf Coast. The Marco Beach Ocean Resort features a variety of dining options, including the Beachfront Bar & Grill and authentic Italian cuisine at the award-winning Sale e Pepe restaurant. The resort also offers full-service spa and fitness center amenities, a sparkling swimming pool, white sandy beaches and nearby golf perfect for a getaway, wedding or meeting. The resort's concierge and highly-trained international service staff accommodate personal tastes and regularly exceed expectations.
The Marco Beach Ocean Resort is enjoyed by resort guests, locals and is also part of The Tarpon Club, offering homeowners of Fiddler's Creek the opportunity to enjoy a beach and boating lifestyle. Fiddler's Creek residents also enjoy The Club & Spa amenities and have the opportunity to join The Golf Club, currently ranked in Golfweek's 100 Best Residential Golf Courses in the United States for the ninth consecutive year.
Fiddler's Creek is located on Collier Boulevard on the way to Marco Island. For information, call 239-732-9300 or visit http://www.fiddlerscreek.com. For additional information or to make a reservation at the Marco Beach Ocean Resort, please visit http://www.marcoresort.com or call 239-393-1400 or toll-free at 1-800-715-8517.